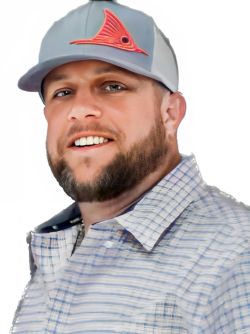 Visitation
Destiny Church
211 Lazy Lane
Clute, TX 77531
Friday, August 25, 2023
6:00pm - 8:00pm
Map & Directions


Send Flowers
Funeral Service
Destiny Church
211 Lazy Lane
Clute, TX 77531
Saturday, August 26, 2023
11:00am
Map & Directions


Send Flowers
Bradley "Brad" Wayne Dunnahoe
of Jones Creek, TX
July 16, 1982 - August 18, 2023
---
Bradley Wayne Dunnahoe passed away unexpectedly on August 18, 2023 at the age of 41. Our family was not expecting for Brad's life to be cut so short so soon. We are all devastated by this huge loss and he will be forever missed.

He was born with a naturally sweet and kind soul, a heart of gold, and was always a joy to be around. Brad was adored by his three daughters and loving wife. They enjoyed fishing and being outdoors and won countless fishing tournaments together.

Brad was incredibly talented in his welding work. When he wasn't making a living in the trade, he was being creative and made quality BBQ pits, knives, and jewelry.

He would also help friends and family in any way he could. Brad was loyal, resourceful, and would always be there to lend a helping hand. He had the biggest heart and personality that was sure to leave an impression on anybody that he met.

He was preceded in death by his maternal grandparents Mary & Wayne Dunnahoe, paterneral grandfather Gerald Cleaveland.

He will always be remembered with much love by his wife, Lauren Dunnahoe and three daughters, Lacie, Paisley, & Riley. Mom, Jerri Hunter; Dad James Wyatt; Brothers Sean Green, Chris Hunter, Wesley Wyatt, Cody Wyatt, & John Wyatt. Paternal grandmother Nancy Hobbins and loving in-laws Cheryl & Kenny Wulf, and Josh Wulf. Also, long list of extended aunts, uncles, cousins, nieces, nephews. He was also greatly loved and will be eternally missed by the many friends he'd made during his lifetime. We can all find solace in knowing he's been reunited with his 'Pawpaw'. What a joyous reunion it must have been for them both.

13 Condolence(s)

Douglas Calcote
Clarksville, TN
Saturday, August 26, 2023
I love you brotha. Rest In Peace

Lenny & Jackie Retzloff
Jones Creek, TX
Saturday, August 26, 2023
Gone way to soon! He will be missed by many! Prayers for Lauren, the girls and the family!

Ryan Watson
West Columbia, TX
Saturday, August 26, 2023
I'll never forget the great times we had working together. Look out for all of us up dude. Miss ya bud.

Donna Rape Moore
Jones Creek, TX
Saturday, August 26, 2023
Prayers for you today and many days to come. This is the hardest, worst thing you've ever faced. A mom's nightmare over and over for who knows how long. I pray that somehow you find the strength and some peace. Your friends, family, Lauren and the girls will be here with you. This is something time doesn't heal. You just learn to live through it and let yourself feel what you feel. Hurt, hate, regret, hindsight, blame, hope, faith. Your faith in God and your friends will help you through this tragedy. Just know we all love you!

Laura Warren
Clute, TX
Friday, August 25, 2023
Brad was fun, wity, funny, just enjoyable to be around. I will always remember the great times hanging out throughout the years. High School was a blast. He was such a funny and good guy, there is just so many things to say about him. What a loss. Condolences to his wife and girls and family, he will be so terriblly missed.

Kelly Huth
Wortham, TX
Friday, August 25, 2023
Sending prayers for comfort during this difficult time.

Everett David Strother
Richwood, TX
Friday, August 25, 2023
To the family, I wanna express my deepest condolences… To Brad, my bud, you were a amazing person, easy to talk to and be around, always strong willed and did whatever was need to be done to anything.. it was my honor and pleasure to call you my friend.. til we meet again bud…

Tammy Grube
Freeport, TX
Friday, August 25, 2023
So sorry for your loss we are praying for you and your family we did not know him personally but we were good friends with Chris and Michelle Hunter may he rest in peace

Richard Key
Marshall, TX
Friday, August 25, 2023
Sorry for you guys as loss sending love and prayers to James and his family

Tadd, Marcey, & Tyler Dunnahoe
Longview, TX
Friday, August 25, 2023
Our prayers go out to Lauren, the girls, and his mom Jerri. Such a huge loss for anyone that had ever met Brad. Wishing you comfort and healing during this time.

Larry Belk
Conroe, TX
Friday, August 25, 2023
I love you and miss you sooooo much buddy

Jessica Demahy
Thibodaux, LA
Friday, August 25, 2023
Brad will be truly missed, he definitely had a kind soul. Was one of my first friends at brazosport high. Will be thinking of your family.

Robyn Hunter
LAKE JACKSON, TX
Wednesday, August 23, 2023
I am so sorry for the loss of Brad, it is so hard to imagine you are gone buddy. Lauren, Jerri, and Chris - Rodger and I will always be here for you guys for anything you need, we love you all very much. I will always remember Brad and his smiling face, I never saw him where he wasn't smiling and joking and for his love for fishing with those girls what a proud daddy he was. He is definitely having a great fishing trip now :) and will be greatly missed - With all our Love Uncle Rodger and Aunt Robyn.