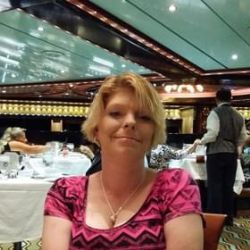 Memorial Service
Cornerstone Church
3007 TX-332
Lake Jackson, TX 77566
Saturday, September 9, 2023
10:00am
Map & Directions


Send Flowers
Leisha Annette Walker
of Clute, TX
December 11, 1974 - August 24, 2023
---


Leisha Annette Walker, 48 of Clute, Texas tragically passed away Thursday, August 24, 2023.
Leisha was born December 11, 1974 in Freeport, Texas and was a lifelong resident of Brazoria County. She never met a stranger and made friends wherever she went. Leisha was loved by so many in the community. She was a bright spot in many people's days with her positive and loving personality. So many people in the community have shared how much they enjoyed her smiles, waves, and conversations. She would do anything she could to help anyone in need even if she didn't have much herself. Leisha had a great love of animals and would sometimes ask people if she could just play with their dogs. She found pure joy sitting and playing with them. One of her most treasured memories was a trip to Disney that her parents took her and Justin on. She was so excited to become a grandma and spend time with her and Sean's grandbabies and loved attending many family events over the years.
She was preceded in death by her parents Thomas Joe Cleaver and Pixie Floyd, her husband Sean Walker, grandparents Lagette "Pete" and Ruth Cleaver, cousin Stephanie Johnson and Uncle Marty Johnson.
Left to cherish her memory are her son Justin Curtis, siblings Emily Rubio (Mitchell Mathes II), Thomas Joe Cleaver Jr., Malinda Crews (Tom) and John Olson (Brenda), nieces and nephews Thomas Patrick Cleaver, Seth Rubio, Julian Rubio, Robert Cockrell, Nick Cockrell (Mary), Taylor Olson and Erika Sanchez (Stuart), along with numerous aunts, uncles, cousins and extended family members that loved her dearly.
A Memorial service will be held 10:00 a.m. Saturday, September 9, 2023 at Cornerstone Church, 3007 TX - 332 Lake Jackson, TX 77566.
The family would like to thank the Clute Police Department and any other agencies that helped with the investigation, along with all the first responders at the scene, the drivers that stopped and tried to help, and the community for the outpouring of love for Leisha. If you would like to donate in Leisha's honor, please donate to the Brazoria County SPCA.
It's not goodbye it's …. TTFN

11 Condolence(s)

Lucinda Hurst
Richwood, TX
Friday, September 8, 2023
Leisha was a precious girl. She attended school with my children and was actually in my group that I chaperoned when we went to Washington DC… she was full of love, and was such bright light always incredibly kind. Please give my daughter Cara a big hug. Love and condolences to your family.

Lucinda Hurst

Leigh Wright
CLUTE, TX
Saturday, September 2, 2023
I didn't know you personally, but saw you around a lot and often prayed for you! In some ways i feel like he answered my prayers because he did end your suffering and pain, but I hate this happened to you all the same. Now you reside in a better place than ALL of us!!! RIP Leisha

Carolyn Clay
Clute, TX
Thursday, August 31, 2023
Her sweet soul touched my heart in many ways! She would always ask to play with my puppies and check in on how they were doing. She was a friend of my mom's until my mom passed and then she became a friend of mine. I'll never forget her or how sweet of a smile she smiled. She was a very nice woman and cared alot about others. The community will miss her and we are so glad yall found some justice.
Sincerely, Carolyn.

Danny Gaona
Angleton, TX
Tuesday, August 29, 2023
Liesha, May you Rest In Peace. You were a good person and you will forever be missed. May you rejoice in Heaven with your family. Gonna miss you. Love ya.

Emily Rubio
Angelton, TX
Monday, August 28, 2023
Leisha , love you so much, you always had the biggest heart . So much love to give to everyone . Not goodbye TTFN . Miss you so much . Give dad,mom and all of our loved ones in heaven . A kiss and hug for me . Love you always ❤️. My big sister ❤️. Always in my heart forever you will be .

Tracey Degetaier
Alvin, TX
Sunday, August 27, 2023
He helped many of us

Eric Rae burge
Angleton, TX
Sunday, August 27, 2023
This woman took me in when I had nothing she gave so much when she had so little always smiles no matter how hard life was . Thanks you leisha you took me in gave me you room to stay get on my feet and saved my life becuse I was in a dark place . You have my prayers . Hopefully we meet again one day Godspeed leisha god speed

Lauren Ledesma
Clute, TX
Saturday, August 26, 2023
Leisha you're loved by the community never forget it…this is not goodbye as usual as we would always say to one another see you tomorrow…now tomorrow will never come…I'm so heartbroken that you're gone my friend. May you rest in the roses! All your pain is gone…now you can run in the fields and be relieved. Love you Leisha…I'm always going to miss you.

Laura Warren
Clute, TX
Saturday, August 26, 2023
Liesha was a sweet and loving person. She was always putting someone else in front of her. She will be missed. Condolences to her family.

Nichole Tackwell
Lake Jackson, TX
Friday, August 25, 2023
She was always incredibly kind and always had a compliment. She suffered in this world but she didn't allow it to make her cold and that alone is beautiful and deserves honor. Rest easy baby.

Vickie
Freeport, TX
Friday, August 25, 2023
Sincere condolences. All my friends who knew he said she was a very sweet lady. ❤️🙏❤️🙏❤️