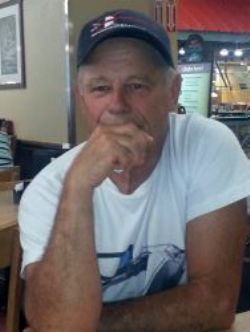 Visitation
Lakewood Funeral Chapel
98 N. Dixie Dr.
Lake Jackson, TX 77566
Tuesday, August 29, 2023
1:00pm - 4:00pm
Map & Directions


Send Flowers
Charles Clifford Hahn, Jr.

of Lake Jackson, TX
May 4, 1945 - August 23, 2023
---
Family and friends of Charles Clifford Hahn are invited to attend
visitation hours on Tuesday, August 29, from 1-4 pm at Lakewood Funeral
Chapel, 98 Dixie Drive , Lake Jackson, Texas. Charles passed away August
23, 2023 in Houston, Texas. He was 78 years old. Interment will be
held at the Veteran's Cemetery in Houston, Texas at a later date.

Charles was born in Stigler, Oklahoma and moved to Pasadena, Texas as a
young boy attending school in Deer Park, Texas. He was drafted into the
U.S. Army and proudly served his country as a medic in Vietnam receiving
two Purple Hearts and several commendations. Charles was a start up
engineer for petroleum companies. His work took him all over the world
including Dubai, Saudi Arabia, Ireland, United Kingdom, Africa, Canada,
Alaska and Aruba. Charles's first love was his family. He was a
dedicated husband and father. He spent countless days in the pool
teaching Krista and Julie how to dog paddle and swim followed up with
the grandchildren, Chloe, Lilianna and Martin. He was known for his
scary tall tales. He petrified his girls and later all the grand kids
with blood thirsty bats drinking from the swimming pool to howling
creatures in the night. He also loved working on his classic muscle cars
and his jet boat. He was extremely outgoing. He never met a stranger. He
knew all his neighbors, spoke to everyone that passed the house! He
loved to laugh and enjoyed living life.

Preceded in death are his parents Charles Hahn Sr. and Wilma Burton Hahn
of Pasadena, a son, Brent Krenek and sister Patricia Short.

Charles was the husband of Kathy Curlee of Lake Jackson, father to Julie
Renteria of Lake Jackson and Krista Renteria of Angleton. He left behind
grandchildren, Chloe Renteria, Truitt Jordan (Julie), Lilianna and
Martin Caudillo (Krista) and Brandi Taylor of Angleton. Great
grandchildren (Brandi and DJ) Hazel Dupuis, Ryker, Lylia and Hunter
Taylor. Also surviving Charles are his sister Carole Clayton and brother
Mike Hahn .

He will remain irreplaceable, loved and missed in our hearts.

1 Condolence(s)

Renetta Burton Hamilton
Coppell, TX
Monday, August 28, 2023
Rest in peace, Cousin. May God bless all the family. Hugs.