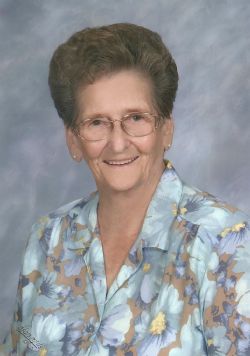 Visitation
Lakewood Funeral Chapel
98 N. Dixie Dr.
Lake Jackson, TX 77566
Friday, September 8, 2023
10:00am - 12:00pm
Map & Directions


Send Flowers
Funeral Service
Lakewood Funeral Chapel
98 N. Dixie Dr
Lake Jackson, TX 77566
Friday, September 8, 2023
12:00pm
Map & Directions


Send Flowers
Wilna Faye Bell
of Jones Creek, TX
August 1, 1928 - September 4, 2023
---
Faye, of Jones Creek, TX, peacefully entered heavens gates on September 4th, 2023 at 5:42pm.
Faye was born on August 1, 1928 in Leesville, Louisiana to parents Asa and Helen Burr alongside sibling Winston Burr. She moved to Brazoria County at 19 years old where she met and married her husband of 48 years ''CE'' Charlie Bell.
Faye attended Jones Creek Baptist Church for 40+ years and is a forever member of God's family. Faye started her career carrying the Houston Post and then went on to be a postal carrier where she retired after 27 years. She was also a member of the ''Red Hat Society'' which she enjoyed with best friend Wynell White. When Faye was not working, she spent her days caring for her husband, children, and grand-children. Faye LOVED to travel back to Louisiana often to take her shot at the casino where she always had luck on her side. She enjoyed quilting; all of her family has a hand-made ''Nanny quilt''. She also enjoyed cooking; if you visited her house, she would either feed you or ask you until you gave in. Feeding people was her love language and she ensured we all had enough to eat; maybe too much.
Faye spent her retirement years after volunteering as a greeter, traveling with her grandson and his wife, and continuing her hard work of taking money from those Louisiana casinos.
Faye is preceded in death by her husband, C.E. Charlie Bell, parents Asa and Helen Burr, brother Winston Burr and daughter-in-law Dorothy Burr, and children Brenda Lee Bell, Robert Asa Bell, and Janice Carolyn Walters.
She leaves behind her son John Roland Bell and wife Chris of Sweeny, grandchildren, Jason McCaffety and wife Shelli of Brazoria, Josh McCaffety and wife Cheryl of Lake Jackson, and Jennifer Bell of Angleton, great grandchildren, Gage McCaffety of Houston and Jazmin Fisher of Angleton, great-great grandchildren, Nathaniel and King Pena of Angleton. She also leaves a nephew, Bo Lander of Lake Jackson and Dwight Burr of Visalia, CA, and niece, Cindy Belle-Isle of Los Angelos, CA.

The family wishes to express our gratitude to Dr. Dalal and staff in Lake Jackson, The Carriage Inn staff in Lake Jackson, and the staff of IPH Home Healthcare of Lake Jackson for their dedication and care for Faye during the past several years and specifically the past few months. She was well cared for by all of you and we couldn't be more grateful.

The family lastly would like to say a special thanks to the 70+ year friendship Faye and Wynell White shared. They became immediate friends when Faye moved to Brazoria County. Wynelle's husband Carrol as well as her children Linda Singleton, Carla Leonard, and Deana Gray have been a staple part of Faye's family and life and in the last year, Linda Singleton and husband Richard Singleton carried on Wynell's duties to care for Faye after Wynelle's death. These two were the best of friends who couldn't be separated and we know they will be dancing in Heaven while bossing each other around.

Please join us to send our beloved Faye home; visitation will be Friday September 8th at the Lakewood Funeral Chapel in Lake Jackson (98 N. Dixie Dr.), TX from 10am - 12pm with Chapel Service to follow at 12pm.


1 Condolence(s)

Jacqueline Webber
Bay City, TX
Wednesday, September 6, 2023
I work for IPH - as a Chaplain. I thoroughly enjoyed visiting with Ms Faye. She was such a warm and loving lady ❤️❤️❤️. She would tell me that if you have to be somewhere, this is the place to be. (Assisted Living)
Mr Faye had a special place in my heart ❤️ ❤️❤️