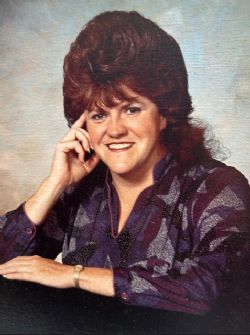 Memorial Service
First United Methodist Church of Freeport
1600 W. Broad St
Freeport, TX 77541
Saturday, September 30, 2023
10:30am
Map & Directions


Send Flowers
Valerie Diane Crosby
of Freeport, TX
February 19, 1947 - September 12, 2023
---
On September 12, 2023, Valerie Diane Crosby, (Diane) 76, gained her heavenly wings in Clute, TX after a short diagnosis of dementia and congestive heart failure.

Diane was born February 19, 1947 in Freeport, TX to parents George E Crosby and Frances Crosby. She was a lifelong resident of Freeport, TX till her short stay in Clute, TX. She graduated from Brazosport High School in 1965. She went to work for Duke Energy in Houston, TX in the printing department and retired from there after 33 years. She then went into retail with Palais Royal where she worked till they closed the stores in the area.

There is so much to say about Diane Crosby! She was a great daughter to her parents, went on many, many trips with them all over the US. She was a wonderful Aunt, Great-Aunt and even a Great-Great Aunt to all her nieces and nephews! She will tell everyone that ''she raised us'', which was her way of saying that she was always there for us, every activity, big event, holidays, birthdays and just any other time she could be with us.

She had many loves, such as her love for photography. You knew that anytime Diane and her cousin Patricia were going to be around, you would be having your picture taken, whether it was posed or not! She loved her Chili Cook-Offs with her favorite being in Terlingua, TX where she won many awards and then became a judge at the annual cook-off. She was a member of many groups that she held very dear to her heart. She was an Alumni of the Brazosport High School Class of 1965 where she never missed an opportunity to spend time with her classmates. She was a longtime member of The Brazosport Girl Friends and also a member of The Golden Girls. She was a member at First Methodist Church in Freeport where she spent a lot of time, especially after retirement. The church has a mission called ''Mission Hope'' where they provide for the community and she worked that every Tuesday. The church also has an after school program called ''The Spot'' that she worked every day, Mon-Thurs, registering and signing the kids in and they all came to love her very much. She was part of The Mamie's Woman Group that met once a month. She was a board member of the Freeport Senior Citizens and on the board of The Schuster House in Freeport. To say the least she was well known and loved in her community!

Now to the last of her true loves and that was her family! The Crosby family reunion was something she cherished and worked hard for every year. The Crosby's
Landing was where they were held and she had so much pride in putting together the best experience possible for all her aunts, uncles, cousins, nieces, nephews and friends that attended. There is so much more to say about this beautiful soul but we will leave the rest to our memories and cherished time spent with our beloved Diane.

She was preceded in death by her father, George E Crosby, her mother, Frances Crosby, her brother, Don Crosby and her brother, Douglas Crosby

She is survived by her niece, Karen Crosby Barrier (Destry), her nephews, John Crosby, Joe Robyn Crosby, Josh Crosby and Jacob Crosby. Great niece, Kamryn Crosby. Great nephews, Jared Carrasco, Cordell Crosby, Jackson Crosby and Mason Roebuck. Great-Great Niece and Nephew, Ellary Carrasco and Waylon Carrasco.

There will be a Memorial Service held at First Methodist Church in Freeport at 10:30 am on Saturday, September 30, 2023 and would love for all that knew and loved her to come and celebrate her life.

1 Condolence(s)

Shelly Crosby
San Marcos, TX
Monday, September 18, 2023
Rest in peace sweet sister-in-law. Give Don a hug for me. We will see you again in Heaven.