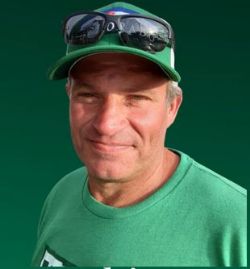 Visitation
Destiny Church
211 Lazy Lane
Clute, TX 77531
Saturday, September 30, 2023
10:00am - 11:00am
Map & Directions


Send Flowers
Funeral Service
Destiny Church
211 Lazy Lane
Clute, TX 77531
Saturday, September 30, 2023
11:00am
Map & Directions


Send Flowers
Eugene Chip Stevens
of Angleton, TX
January 7, 1969 - September 17, 2023
---
Eugene Chip Stevens, 54, lifelong resident of Clute, Texas, was suddenly called home by Our Father in Heaven on Sunday, September 17, 2023, while peacefully engaged in working on one of his many hobbies.
Chip is survived by his son, Brandin Lee Stevens, of New Braunfels; his mother Sheila Roxanne Perry Stevens, of Clute; his fianceé, Jennifer Elizabeth Wren, of Richwood; and his son's mother, Bridget A. Hrbacek, of New Braunfels.
Chip is also survived by a large, loving family who all reside in the Brazosport area. His three brothers and sisters-in-law, five nephews, and four nieces include: his brother Michael David Stevens and his wife Kathy, his nephew Christopher Ashley and his wife Heather, his nephew Joshua Stevens and his wife Amanda, his niece Mikayla Rogers and her husband Jordan, and his nephew Hunter Stevens and his wife Emily; his brother Neal Quinten Stevens and his wife Barbara, his niece Samantha Sapio and her husband Jason, his niece Cheyenne Trail and her husband Callen, his nephew Tanner Stevens and his wife Morgan, his brother Aaron Cade Stevens and his wife Tonya, his niece Kaylee, his nephew Kaleb, as well as numerous cousins, and great nieces and nephews all of whom he loved dearly. Chip also leaves behind countless good friends that he treasured who became like family over the years.
He was preceded in death by his father Donald Eugene Stevens, maternal grandparents Clarence and Mildred Perry, and paternal grandparents George and Erma Jean Stevens.
Chip was a 1987 graduate of Brazoswood High School and having come from a long line of welders/fabricators/boilermakers/pipefitters, he followed suit and became a welder/fabricator as well. He worked at Brazos Pipe and Steel Fabricators for several years, but spent the majority of his career with Freeport Welding and Fabricating.
Growing up in Clute, Chip played all manner of sports, participated in a wide variety of activities, and had numerous hobbies, including: little league baseball, Clute Swimming & Driving Team, Brazoswood Bucaneer Football, he loved to skateboard, race BMX bikes, and was an avid surfer.
Chip had two great loves in his life - his son Brandin who was his pride and joy; and bowhunting deer. When he was able to combine his two passions and go hunting with his son, brothers, and good friends, you could not find a happier human alive.
In almost every conceivable way, Chip Stevens was the most unforgettable character. He was born a live wire with an effervescent personality, robust sense of humor, and an irrepressibly unique laugh. He knew the importance of seizing every moment he could and living directly in them to the fullest. As such, he managed to pack in more excitement and adventure in his fifty-four years of life than any thousand people. Chip, known affectionately as ''Dipper'' by his close friends, knew that true wealth in life was measured by the good friends with whom you shared life's journey. He had more good friends than he could ever count who'd instantly be willing to give him the shirts off their backs if he was in need. Chip was quick to offer a warm bear hug, expressed his love for his family and friends each time he saw them, and had a love for life that was unparalleled. Chip had a loving, giving heart and tried his level best to do as His Father in Heaven would have him do. Chip will be missed dearly by so very many people who loved him--people who are currently having a hard time imagining their lives without all the beautiful color he so effortlessly added.
A celebration of life for Chip Stevens will be held on Saturday, September 30, 2023 at Destiny Church, 211 S. Lazy Lane, in Clute. Visitation with the family will begin at 10 a.m. with the service following at 11a.m. A reception will be held at the church after the service.





3 Condolence(s)

Jennifer Elizabeth Wren
Richwood, TX
Saturday, October 14, 2023
Our Dearest Chip,

Oh how your whole family and I cherished the bright light you brought to our lives. Nor could we help but bristle occasionally at the mischief that inevitably came with your wild, beautiful spirit either. Both parts entwined around, in, and through one of the most loving and tender hearts you'd ever hope to know. You touched thousands of lives in your fifty-four years and each one (usually) all the better for it.

Born to bowhunt, fish, and dwell in the woods and forest that were always your natural home. Paraphrasing K. Chesney, knowing you was like a free fall from 100,000 feet, not even caring where you land…we were like kids on a carnival ride…holding our breath 'till the moment…when you were going to leave us too soon. But we'd gladly do it all over, because baby it was so wonderful knowing and loving you.

For all the unforgettable things that made you unique; for all the reasons you were integral to many of our favorite memories; for all the time you lived full throttle and wide open with your hair on fire (laughing that full-body Chip laugh as you dragged us along, exhilaratingly terrified); and for all the love you completely and freely gave so many…we will be forever grateful.

We love you with all our hearts, sweet Chip, and always will. May you fly, play, and finally, rest, in Eternal Peace Forever and Ever with Our Loving Father in Heaven.❤️

Bob Rogers
Angleton, TX
Wednesday, September 27, 2023
This fleeting life is not the end, we will meet again!

Craig Grimmer
Jacksonville, TX
Monday, September 25, 2023
Our condolences and best prayers
for all.
Was none like him.
Will see ya in the forest when I get
there.

Craig & Cheri G.