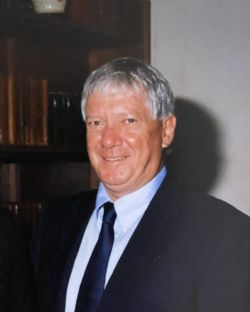 Celebration of Life
Hide-A-Way on the Gulf Clubhouse
503 CR 721
Freeport, TX 77541
Saturday, October 14, 2023
11:00am
Map & Directions


Send Flowers
Anthony Joseph Alcoser
of Freeport, TX
May 16, 1947 - September 25, 2023
---
Anthony Joseph Alcoser, Sr. was born May 16, 1947, in British Honduras to Fred Francis and Elsie Adelia Alcoser. Tony went to be with the Lord on September 25, 2023, at the age of 76.
Tony is survived by his son, Anthony Joseph Alcoser, Jr. (wife Gaye) and grandson, Grant Anthony Alcoser, his sister Sonia Alcoser Jones (husband John), sister Judie Alcoser Long, and brother Fred Alcoser (wife Kimberly).
Tony idolized his mother for her strength, morals, and good manners which were his guiding light over the years.
His life in the United States began when he moved to Orange, Texas with his family in 1963. He attended St. Mary's Catholic School, Stark High School, and Lamar University.
Tony worked as a civil/structural designer in the petrochemical industry for over 50 years where his attention to detail and hard work ethic made him an asset on any team that was fortunate enough to have him. Tony always took the time to advise and guide those just starting their career, and was a consultant to seasoned veterans seeking his expertise. His work was that of precision and excellence. Although a lot of his time was spent in an office, he never missed an opportunity to provide his wealth of knowledge in the field. Tony remained in touch with his coworkers and friends throughout his career and retirement.
Tony's house was always the place to be and everyone was always welcome. Whether you were a kid in need of a bicycle repair, or a friend who needed help on a project, Tony was always the first to lend a helping hand. If he wasn't at home helping someone, he was out and about with his constant companion and fur buddy, Rudder.
Tony lived life big and loved his family, his friends, and all his neighbors. He was always welcome at everyone's home and considered family by most.
A Celebration of Life is planned for 11 a.m. October 14, 2023, at the Hide-A-Way on The Gulf Clubhouse located at 503 CR-721 Brazoria County, Texas.


6 Condolence(s)

Susan Young Grubbs
San Antonio, TX
Sunday, October 15, 2023
You will be missed by many. ❤️

Susan
Live Oak, TX
Friday, October 13, 2023
I'll miss you always.

Pete Garcia
Angleton, TX
Wednesday, October 11, 2023
Sorry for your loss, Tony was a good friend. I enjoyed working with him at Dow. I appreciated him for hosting my retirement at his home..

JUAN H. LONGORIA
Kingsville, TX
Wednesday, October 4, 2023
Tony rest in peace my friend. I will always remember you.

Fredrick Francis Alcoser III
Houston, TX
Wednesday, October 4, 2023
We had the best times with Uncle Tony. I'll miss him deeply.

Jackie D Phillips & Family
Missouri City, TX
Tuesday, October 3, 2023
Tony and I always said, who ever dies with the most toys
Is the winner. Tony is and will always be a winner.
The Phillips Family loved and will miss you very
Very very much my friend.