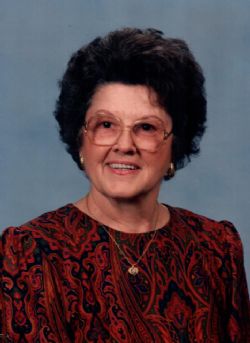 Visitation
Lakewood Funeral Chapel
98 N. Dixie Dr.
Lake Jackson, TX 77566
Monday, October 16, 2023
10:00am - 10:30am
Map & Directions


Send Flowers
Funeral Service
Lakewood Funeral Chapel
98 N. Dixie Drive
Lake Jackson, TX 77566
Monday, October 16, 2023
10:30am
Map & Directions


Send Flowers
Roma June Hopkins
of Lake Jackson, TX
July 4, 1925 - October 10, 2023
---
Roma June Hopkins passed away on October 10, 2023.

June was born in Eldorado Spring, Missouri in 1925. When she was three years old, her family moved to Fort Scott, Kansas. She lived there until she graduated from High School at the age of seventeen.

After graduation, June immediately started working for Bell Telephone Company. At the age of twenty she met Kenneth (Short) Hopkins at church. Four months later they were married. After being married for two years, Sue, Gloria, Pat, and Kenneth (Speed) were born.

Before Speed was born, the family moved to Freeport. Then a couple years later the family moved to Lake Jackson. Lake Jackson has been their home from then on.

Kenneth and June were married for forty six years when Kenneth passed away. She loved to travel and did a lot of it when Kenneth passed away. She got to travel all over the United States and see a lot of beautiful places.

June loved her church, traveling, playing cards, and dominoes. Her church and raising her children to grow up with good morals, accept Jesus as their Savior, live a good Christian life, and for her children to be happy.

God was so good to us when He created and gave us Roma June Hopkins.


4 Condolence(s)

Beth Domnick Gilbert
PEORIA, IL
Thursday, October 19, 2023
We send our prayers and condolences for the family of Roma June. I am the youngest of Norma Jeanne Shoemaker Domnick's 7 children. Norma Jeanne is Orville's daughter, and she was 7 months older than her Aunt Roma June! They grew up together, though, and became close like first cousins or even sisters. My mother is approaching her 99th birthday... when I told her about Roma June's passing, she was saddened, but quickly starting telling me about how much fun they had together when they were young. She specifically mentioned a time when they were going to a church event led by Uncle/ brother RB. The girls were dressed alike, except that their socks were different colors, so they each took off a sock and let the other wear it so they could be as identical as possible. She said RB was good natured and kind to them despite their silliness. May Roma June rest in eternal, heavenly peace.

Paul Shoemaker
Wichita, KS
Friday, October 13, 2023
Blessings to all. Always loved seeing Aunt June at family reunions.

Joy (Shoemaker) Vallosio
Mapleton, IL
Friday, October 13, 2023
My condolences to the families. So many inspirational great aunts and great uncles from the Shoemaker family. Roma June was a good one!

Ronda Peterson
Fort Scott, KS
Thursday, October 12, 2023
Thoughts and prayers for the family. She was my grandmother's sister. Lovely lady. Very kind. Loved her laugh!