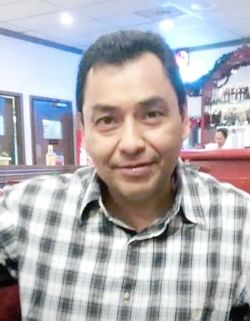 Visitation
St. Joseph's Catholic Church
219 Cr 762
Brazoria, TX 77422
Thursday, October 19, 2023
6:00pm - 8:00pm
Map & Directions


Send Flowers
Rosary
St. Joseph's Caatholic Church
219 CR 762
Brazoria, TX 77422
Thursday, October 19, 2023
7:00pm
Map & Directions

Mass
St. Joseph's Catholic Church
219 CR 762
Brazoria, TX 77422
Friday, October 20, 2023
12:30pm
Map & Directions


Send Flowers
Arthur Edward Moreno, Jr.
of Freeport, TX
November 28, 1964 - October 17, 2023
---
Arthur Edward Moreno Jr. passed away peacefully at the age of 58 on October 17, 2023, at home surrounded by family and friends in Freeport, Texas. He was born on November 28, 1964 in San Juan, Texas, to Arthur Sr. and Valentine Moreno.
Arthur, who had a beautiful and kind soul, was loved and cherished by many. He had one of the kindest and gentlest souls, who always put others before himself. He was a HVAC technician and he loved to volunteer his time to help the church and community with his family.
Arthur loved his Dallas Cowboys. Arthur's faith in God was strong. Family was everything to him. His life touched numerous people and we are all better because of him.
His family would like to give a special thank you to Eddie Angulo, his childhood best friend, for always being there for him. His ''ride or die.''
He is survived by his parents, Arthur Sr. and Valentine Moreno; daughters, Amanda Moreno Ivey (Larry Bass),Alanna Ivey (Benino); son, Arthur Moreno III; Seven grandkids with two more on the way; sisters, Norma Garcia (Jay), Lucy Ware (Aaron), Tina Robledo (Marcelino), Darcy Moreno (Brandon); brothers, Michael Moreno, and Jacob Moreno (Felicia), and numerous neices and nephews.
He is preceded in death by his daughter Angel Moreno, and granddaughter Aurora Bass.
Pallbearers will be Eddie Angulo, Larry Bass, Arthur Moreno III, Jacob Moreno, Saul Castillo Jr., Jay Garcia III, Benio Soria, and Angelo Cancino.
Honorary Pallbearers will be Christian Phillips, Tavius Jones, Aaron Ware, Marcelino Robledo, Thurston Moreno, Jay Garcia Jr., Michael Moreno, Edward Moreno, Daniel Garcia, Rafael Moreno, and Trey Jones.
Visitations will be held on Thursday, October 19, 2023, from 6:00 p.m. to 8:00 p.m with a rosary at 7:00pm at St. Joseph on the Brazos, 219 CR 762, Brazoria, TX 77422.
Funeral will occur Friday, October 20, 2023, at 12:30 p.m. at St. Joseph's on the Brazos with burial to follow at Restwood Cemetery, 1038 W Plantation Dr, Clute, TX 77531. We will have a reception following the burial at St. Joseph's.

17 Condolence(s)

Kathleen anm mazac
Sweemy, TX
Tuesday, October 24, 2023
I will always be impacted by the caring person Arthur was as I'm sure many will remember . Arthur softened the hardest days of my life when I felt .o way out of my misery. He took me home to his parents who also embracede like I was any other famie like I was family. This family has healed a thousand wounds in my hearat I'm blessed to know Arthur and his family

Gwendora Baskin
Comumbus, GA
Thursday, October 19, 2023
My sincerest condolences and prayers going up for the family.

Francis & Adrian Valdez
Lake Jackson, TX
Thursday, October 19, 2023
Condolences & prayers to all of the Moreno.
May God continue to give you strength during this difficult timeay Arthur RIP🙏 May Arthur RIP🙏

Christine Edwards
Freeport,
Thursday, October 19, 2023
My Condolences to the Family of Arthur Moreno

Nina Lara Mata
Lake Jackson, TX
Thursday, October 19, 2023
LIL ARTHUR my nephew
A very respectable young man always willing
to help others. My parents never stayed hot in summer
he fixed their A.C. quick. He is the Handsome Angel
standing next to my Dad the other HANDSOME Angel
in Heaven with JESUS. LOVE YOU LIL ARTHUR gonna
miss that smile from ear to ear

Maria & Raymond Reyes
Angleton, TX
Thursday, October 19, 2023
I will always remember you my nephew you always was there when I needed help ♥️. I will miss you saying hey Black I am sad but you will always be in my heart . Rest in peace fly high with the Angel ..love you Tia Black

Carol Haney
Freeport,
Thursday, October 19, 2023
I was Arthur 's teacher and through him met the Moreno family. What a joy and privilege to know the family and to teach all the boys in that family. I saw Arthur through the years and he was always that sweet boy/man that I taught. Prayers go out for all the Moreno family especially Valentine's and Arthur in this difficult time. 🙏

Tracy Roberts
Fresno,
Thursday, October 19, 2023
Sorry to hear of Arthur 's passing,
Prayers for you and the Family Norma,

Lisa Lincoln Williams
Freeport, TX
Thursday, October 19, 2023
I have known author forever he's like a part of my family the whole Moreno family is like a part of my family and he will be truly missed love you Norma and the rest of you guys God bless

Carolyn King
Freeport, TX
Thursday, October 19, 2023
Author you will be truly missed by many. I could not have ask for a better friend. I will miss our conversations so much Rest in peace my friend. Gone but never forgotten.Always and forever you will be in my heart. My condolences and my love is sent out to the family. Love always your friend Carolyn


Silverio & Diana Martinez
Kirtland, NM
Thursday, October 19, 2023
Condolences to all the family and friends.

Larry Tobias
Cypress, TX
Thursday, October 19, 2023
Rest In Peace my brother, a lifelong friend and almost family

Ismael g moreno
Angleton,
Thursday, October 19, 2023
Like all other than went before him he will be missed

Larry Tobias
Cypress, TX
Thursday, October 19, 2023
Rest In Peace my brother, lifelong friends and almost family

Irma Pulido
Freeport, TX
Thursday, October 19, 2023
I will always remember Arthur as a nice man always polite and fun to talk to he would always help whenever he was needed may he rest in peace and much love and prayers for his family
Ricky and Irma

Jose Ayala
Angleton, TX
Thursday, October 19, 2023
I've known Mr. Arthur Moreno Jr. for as long as I can rememb
er . He's has always been respectful to me and my family. He will now and forever be missed. May he now and forever rest in peace. And May God reach out to all that he will also be in great hands.

Mr. and Mrs. Jose Ayala

Laura and Alton Hensley
Freeport, TX
Wednesday, October 18, 2023
Sending love and prayers for all the family & close loved ones as they try to move forward after such a loss. Art was truly a good man, and friend. I have known Art for 20 plus years and he's never said a harmful or harsh word to me ever. We will truly miss him. Much ❣️ love my friend.
R.I.P.
Laura and Alton Hensley