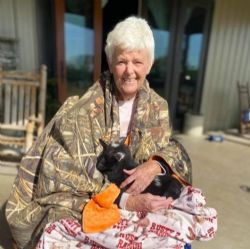 Memorial Service
Sweeny First Baptist Chuch
402 N. Main St
Sweeny, TX 77480
Thursday, October 26, 2023
10:00am
Map & Directions


Send Flowers
Donna Gail Lindsey
of Angleton, TX
May 23, 1946 - October 21, 2023
---
Donna Gail Lingo Lindsey, 77, of Angleton, Texas, passed away on October 21, 2023.

Donna was born May 23, 1946 to Joseph Andrew Lingo and Gladys Hutchins Lingo, in Bay City, Texas. She graduated from Sweeny High School in 1964.

Donna retired as Ford Parts Manager after 40 years.

Donna is survived by her four children, Karen (Ricky), Joe (Belinda), Lonnie (Dede), and Cheryl, her grandchildren, Kara, Kayla (Willem), Kendall (Vanessa), Misty Jo (Kevin),
Jagger (Savannah), Chad (Shawna), Ashley (Richard), Krystin (Clinton) and Jace, 18 great-grandchildren, many nieces, nephews and cousins.

Donna was predeceased by her husband Billy Lindsey, her parents and siblings Joe Lingo and wife Ruby, Betty Bruce and husband A.T. and Billy Lingo.

Donna loved being outside, spending time with her family, her precious dog Rosie and loved being around animals.

Services will be held at Sweeny First Baptist Church, Sweeny, Texas on Thursday October 26, 2023 at 10:00 a.m.

Special thanks to her family at Creekside Village for taking great care of her.