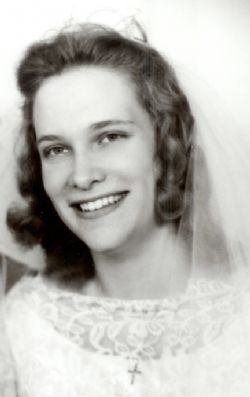 Celebration of Life
Friends of the River Community Center
20450 CR 510 B
Brazoria, TX 77422
Saturday, November 11, 2023
2:00pm - 4:00pm
Map & Directions


Send Flowers
Cecilia Ann Harrison
of Jones Creek, TX
July 23, 1945 - October 27, 2023
---
Our dearly loved Cecilia Ann Gernand Harrison, wife, mom, grandmother, daughter, sister, mother-in-law, aunt, cousin and friend went to be with the Lord on Friday, October 27, 2023. Cecilia was born in San Francisco, California, to William Patrick Gernand and Elizabeth Katherine Schmidt Gernand on July 23,1945, along with her twin sister, Theresa.



Cecilia met her husband, Jerry Don Harrison, in Freeport, Texas. They just celebrated their sixtieth anniversary on October, 11 2023. She excelled in academics throughout her life. Cece was an English master and won every essay contest she entered. Later, she proofread her children's papers to ensure proper grammar. It was very important to her that her kids went to college and all of her children became first generation college graduates from major universities (UT, A&M, University of Houston). 



One of her many positive attributes was her focus on her family. She was devoted to her family's success, tutoring her kids and their friends. Cece also raised two brothers-in-law after their parents passed when they were young. Cece and her sister Rose taught their kids, family members and neighborhood kids Red Cross swim lessons for years in the pool they built themselves. 



Cece created a warm and welcoming environment that was the neighborhood gathering place where all the kids wanted to hang out. Coming from a large family of 9 siblings, this was second nature. Growing up, Cecilia was a ''second'' mother to her younger siblings and earned the affectionate title of ''General.'' She had a no nonsense attitude, made firm, unwavering decisions and was in charge until the end.



She was a perfectionist and avid competitor and never outgrew her love of games, especially card games like Tichu and Canasta. Cece was detailed, organized and coordinated family events and global competitive game tournaments. She was also a challenge to beat in Words with Friends. 



We will remember Cecilia's sharp and intelligent mind, blue eyes, and generosity with her time as she shared her knowledge, wisdom, experience and advice. Celebrate her in your memories and live your life to the fullest. Cece would want you to be your best self and use your time wisely to build lasting relationships. She was the most loving and best Mom and wife ever and will be greatly missed.



She is survived by her loving and devoted husband of sixty years, Jerry Harrison, daughter Liz Harrison Pires (Luis), son Jeff Harrison (Cheri), twin granddaughters Audri Ana & Abigail, son Jerrod Harrison (Belinda), grandsons Cooper & Nicholas, twin sister Theresa Krause (Mike), sister Rose Wagner and brothers David Gernand, Fred Gernand (Kat), and Byron Gernand (Karen), and numerous nieces, nephews, cousins and loving in-laws.



Cecilia is preceded in death by her parents Bill & Betty Gernand, brothers John, Daniel and Bill Gernand and grandchildren Matt and Megan Szabo.



In lieu of flowers, a donation for cancer research would be appreciated.



Cecilia's Celebration of Life will be on Saturday, November 11, 2023 at the Friends of the River Community Center from 2-4 pm. The FOR Community Center is located at 20450 CR 510 B, Brazoria, TX 77422 (Holiday Shores Subdivision). We will have hors d'oeuvres, listen to some of her favorite music and share stories and the fellowship of being with family and friends to celebrate Cece. We will not have a formal service.