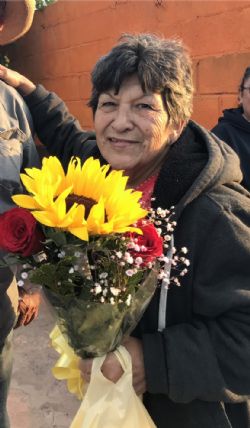 Visitation
Lakewood Funeral Chapel
98 N. Dixie Dr.
Lake Jackson, TX 77566
Friday, November 3, 2023
6:00pm - 8:00pm
Map & Directions


Send Flowers
Mass
St. Mary's Star of the Sea Catholic Church
1019 W 6th st
Freeport, TX 77531
Saturday, November 4, 2023
11:00am
Map & Directions


Send Flowers
Elena Rangel
of Jones Creek, TX
February 14, 1949 - October 27, 2023
---
Funeral services for Elena Estrada Rangel, age 74, of Alice, Texas, will be held at 5:00 p.m. to 8:00 p.m. on Friday, November 3rd, 2023, at Lakewood Funeral Chapel located at 98 Dixie Dr., Lake Jackson, Texas 77566, with Ma. Mercedes Rangel officiating. A Rosary will be held at Lakewood Chapel as well at 6:30 p.m., on the same date and location. A Mass ceremony will then be held at 11:00 a.m. on Saturday, November 4th, 2023, at St. Mary's Star of The Sea Church, located at 1019 W. 6th St., Freeport, Texas 77541. The burial will be after the ceremony around 12:00 p.m. at the Gulf Prairie Cemetery, Hwy 36 CR 304, Jones Creek, Texas 77541.
Elena was a fun-loving friend, mother, wife, and a hard worker always trying to keep her family together. She loved to cook, fish, crochet, attending bar-b-ques, playing, large gatherings, music, and dancing with her husband, Carlos.
She is survived by her husband, Jose Carlos Rangel; brother Cirildo Aleman (Jackie); daughter Kathy Garcia; son Jimmy Garcia (Sally); grandchildren Kimberly Garcia, Alyssa Garcia, Andrea Garcia (Jon), John Garcia (Alexis), Kaylie Garcia, Isabel Garcia, Mya Garcia, Sarina Negrete, Anthony Garcia; great-grandchildren Zomara Higginbotham and Jayce Garcia.
Elena was proceeded in death by her father Onisemo Ramon Estrada; mother Rita Rios Estrada; and son Miguel Estrada Garcia.
Pallbearers will be Cruz Rangel, Luis Rangel, Lorenzo Saayedra, Hector Charles, Jr, Joe Charles, and Mauricio Ramos. Honorary pallbearer will be Anthony Garcia.
A reception will be held after the burial at Freeport Lions Club, located at 1224 N. Gulf Blvd Freeport, Texas 77541, 12:00 p.m. to 11:00 p.m.