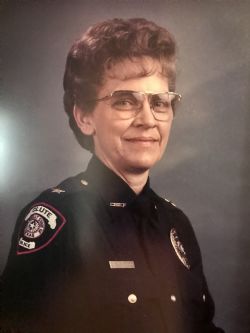 Visitation
Lakewood Funeral Chapel
98 N. Dixie Dr.
Lake Jackson, TX 77566
Thursday, November 9, 2023
12:00pm - 1:00pm
Map & Directions


Send Flowers
Funeral Service
Lakewood Funeral Chapel
98 N. Dixie Dr
Lake Jackson, TX 77566
Thursday, November 9, 2023
1:00pm
Map & Directions


Send Flowers
Patricia Faye Coupland
of Lake Jackson, TX
April 10, 1942 - November 6, 2023
---
(Patricia) Faye Rhame Coupland, 81, fought the good fight and finished the race on November 6, 2023, after a lengthy illness. She passed away peacefully at her home surrounded by her daughters. Faye was born to Earl Rinnie and Gladys Verlene Lowe Rhame on April 10, 1942, in Conroe, Texas. She had one brother, Earl Rayford Rhame. The family moved to Alvin in 1947 and to Clute in 1953. Faye graduated from Brazosport High School in 1960. She married Virgil Lee Markwardt at her parent's home in 1959 and from that union, had three daughters. Faye was married to Richard Coupland from 1986 to 2008.
In 1976, Faye began her career in law enforcement as a dispatcher. She worked for the Brazoria County Sheriff's Office (BCSO) until 1981, except for a short period with the Texas Alcoholic Beverage Commission. She joined the City of Clute Police Department as a patrol officer in 1981 and was appointed the Chief of Police in Clute in July of 1985. Chief Markwardt served until November 1988, when she returned to the BCSO and continued her law enforcement career as an Investigator - specifically working cases involving women and children. Faye also served as bailiff for the Brazoria County grand jury. She became a Criminal Justice Instructor at Brazosport College in 1978 and taught for the Police Academy until retirement in 2013. Her home office is filled with gifts from her students acknowledging her expertise in the field and thanking her for her mentorship. Over the years, we came to learn that she used the experiences of raising the three of us as her best stories for the students in the Academy.
Faye was literally a pioneer in police work, where she was admired for her contributions to the force at a time when few women worked outside the home, let alone as a cop. She broke through the glass ceiling long before it was termed such. But as committed as she was to her career, her true passion was her three daughters and later, their families. To us, she was Mama, Meme, and Aunt Faye. She had the answer to all the things and was our go-to for every crisis (large and small). She was a pillar of strength and the rock of our family. For most of her young adult life, she raised her three daughters on her own and in her parting words, it was her greatest accomplishment. While we are all rejoicing for her heavenly reunion, we know the void in our lives can never be filled.
Faye was preceded in death by her parents, and her brother and sister-in-law, Earl and Martha Rhame. She is survived by her three children and their families, Belinda (and Rickey) Edge of Lake Jackson, Jamie (and Royce) Williams, also of Lake Jackson, and Karry (and Les) McDaniel of New Caney; grandchildren Rikki Lyn Edge, Erin (and Chris) Kelley, Candis (and James) Slawson, Carissa (and Jon) McDaniel, Erica Williams, Madison Williams; great- grandchildren Janice Kelley, Eli Kelley, Colt Kelley, Coleton Coupland, Austynn Coupland, Brynnlei Slawson, Elliana Glidewell, Emma McDaniel, Johnny McDaniel, Isabelle Valenzuela-Williams, Ryan McDaniel, and Kaitlyn McDaniel; niece Vera (and Merle) Wise and nephew Tommy (and Belynda) Rhame, and their families.
Visitation is scheduled for 12:00 pm on Thursday, November 9, 2023, and the funeral will follow at 1:00 pm at the Lakewood Funeral Chapel at 98 Dixie Drive, Clute, Texas. Burial will be immediately following at Restwood Cemetery. The service will be performed by Pastor Craig Taylor of Family Life Church.
Pall Bearers: Chris Kelley, Jon McDaniel, Coleton Coupland, Ryan McDaniel, Kaitlyn McDaniel, TJ Nelson
Honorary Pall Bearers: Johnny McDaniel, Eli Kelley, Colt Kelley, Kaulton Green, Kanin Green
2 Timothy 4:7-8 I have fought the good fight, I have finished the race, I have kept the faith. Now there is in store for me the crown of righteousness, which the Lord, the righteous Judge, will award to me on that day - and not only to me, but also to all who have longed for his appearing.

In lieu of flowers, please consider a donation to the 100 Club of Brazoria County, the Brazoria County Dream Center, or the SPCA of Brazoria County.

14 Condolence(s)

Renee Craig
Deer Park, TX
Thursday, November 9, 2023
Belinda. I sorrow with you and your family. She sounded like an amazing person. You and your family are in my prayers.

Eddie Rogers
Kerrville, TX
Thursday, November 9, 2023
I had the pleasure of working at the Sheriff's Office when Faye was there. She was always available if you had a question on something. She had the knowledge and experience to get you in the right direction. She could be sweet as honey and tough as nails depending on what the situation dictated. She was a friend to many. She will be definitely missed. May she Rest in Peace. Condolences to all the family and friends.

Tim Morrison
Brazoria,
Thursday, November 9, 2023
Had the privilege of having Faye teaching me at the police academy, of 2006 - 2007 she was one of the best..I will miss her. Rest in peace Faye

Magdalene Ripple McClendon
Lake Jackson, TX
Wednesday, November 8, 2023
Words don't seem enough to describe such a special lady and friend, May God give each of you strength, comfort and peace these difficult days..My prayers and thoughts are with you all.. love, Magdalene McClendon


Jack Netek
Humble, TX
Wednesday, November 8, 2023
Belinda and family,

You are all in my family's prayers in this time of loss. We fervently hope the joyful memories will swell greater than any pains of separation, now and in the future.

God bless and keep you!

Jack & Honour Netek

Rita Mauldin
Ingram, TX
Wednesday, November 8, 2023
My heart goes out to all three of you. Your Mom was beautiful, smart and a strong person just as I know all of you became because of her leadership. I know she will be missed but think and remember the good times, which I am sure are many, with her. Be strong and know your Mom is looking down from Heaven,.
Love to all, Rita

Jay Wallace
NEEDVILLE, TX
Wednesday, November 8, 2023
My condolences for your loss. Your mother will be greatly missed.



Connie Rush
Waxahachie, TX
Wednesday, November 8, 2023
I have known Faye most of my life. You girls were just very young. She taught my son Quenton in the police academy. We both loved her and respected her. She was always her same ol self. I haven't seen her in a few years but I still think about her sometimes. Heaven gained an angel for sure! She left a legacy. She will be missed!

matt cone
Brazoria, TX
Wednesday, November 8, 2023
My deepest condolences & Prayers

Sharon Stewart
Normangee, TX
Wednesday, November 8, 2023
I loved working with Faye! She was so kind and helpful. Heaven got a new Angel!

Debra Swallow Odum
Iola, TX
Wednesday, November 8, 2023
I am so sorry for your loss. Prayers my friend.

Sherry Burge
Manvel, TX
Wednesday, November 8, 2023
Faye was a wonderful lady that really cared about people ! She could be funny , but She also could be stern when need be ! Love her family snd they loved her too ! She will be missed, but now she is in Gods hands ! Sending love and prayers to family !

Clute 1957 9th Grade Class
Lufkin, TX
Wednesday, November 8, 2023
We were so blessed to have been able to connect with Faye for almost 28 years at our annual 9th grade reunions. She never missed one of them until 2 years ago which was our last one. She was loved dearly by all of our classmates. Prayers are with each of you during this time. She loved each of you so much plus her Astros.

Bobbie Jo Lewellen
Jones Creek, TX
Wednesday, November 8, 2023
Dear Belinda and Family,
God Bless you all during this time of loss. Your Mom was just a beautiful person. Remembering her with all the memories you share will keep her close to you and make your heart happy again. Love you Bee.
Always,
Bobbie Jo