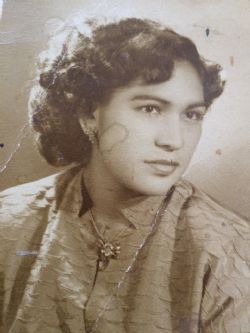 Maria "Licha" Luisa Hernandez

Maria "Licha" Luisa Hernandez
June 21, 1928 - February 1, 2020
Funeral services for Maria (Licha) Hernandez, 91, of Angleton, TX will be held at 10am on Thursday, February 6, 2020 at Most Holy Trinity Catholic Church in Angleton, with Father Victor Perez officiating. Interment will be held at Restwood Cemetery. A rosary will be held at Lakewood Chapel. The family will receive friends at Lakewood Chapel at 6pm on Wednesday, February 5, 2020.

Licha Hernandez passed away peacefully on Saturday, February 1, 2020. She was born on June 21, 1928 in Houston, TX to Nestor and Maria Gonzales of Angleton, TX. She worked at Brazosport Community Hospital and Angleton ISD. She enjoyed music, sewing and gardening. She loved to cook for family and friends.

Licha was preceded in death by her husband; Julio S. Hernandez, sister; Consuelo Garcia, and brother; Miguel Gonzales.

Survivors include; daughters; Viola Damian (Armando), Dorothy Hernandez, granddaughter; Angela Rodriguez (Gene), great-grandchildren; Anthony Longoria II, Aiyanna Longoria, and brother; Joe Gonzales.

Pallbearers will be, Armando Damian, Clem Gonzales, Chris Garcia, Jose Luis Balandran, Manny Rodriguez and Matthew Bermea.