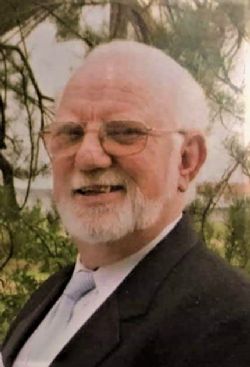 Terrell "Terry" Wilson Mitchamore

Terrell "Terry" Wilson Mitchamore
September 24, 1943 - February 3, 2020
Terrell (Terry) W. Mitchamore passed away at the age of 76 on February 3, 2020. He was born Sept.24, 1943 to Wilson and Imola Mitchamore in San Angelo, TX.

He attended Tivy High School in Kerrville, TX and immediately enlisted in the US Navy where he served on the USS Point Defiance LSD-31.

After his Naval Service, he moved to the Brazosport area to pursue a career at Dow Chemical where he worked in the Polyethelene Department for 30 years until his retirement. He then worked at Sablaturas Office Supplies assembling and delivering furniture for 10 years.

Terry was a member and worshiped at Wesley Methodist Church for many years serving on various positions and committees.

He served as the Scout Master of Boy Scout Troop #321 and was extremely proud that each of his Scouts earned their Eagle Scout Ranking.

Terry married his wife, Jeannie (Ginger) Morgan in 1972. Together they raised their two sons, Jesse and Vincent. Life was filled with Honky Tonk dancing, trail rides and water activities.

In 2000, he traveled to his first Tropical Island and immediately traded cowboy boots and Western shirts for beach sandals and Hawaiian shirts. Willie, Waylon and The Boys were replaced by Jimmy Buffett music and concerts.

Terry was preceded in death by his parents Wilson and Imola Mitchamore, brother Norman Mitchamore, sister Sonja Ketchem and her husband Dale Ketchum, brother-in-laws Jerry Easterbrook and Marvin Pate and niece Angie Young.

He is survived by his wife of 48 years Jeannie (Ginger) Mitchamore, sons Jesse (Christina) Mitchamore, Vincent (Naomi) Mitchamore, sister; Dianne Easterbrook, In-laws Janice Mitchamore, Judy Pate and Dave & Cindi Ortego.

He will be missed by his five grandchildren, Justin Johnston, Anthony McBride, Jr. Adrianna Mitchamore, Thomas Taylor, Nathan Mitchamore and numerous nieces and nephews, plus his traveling buddies and partners in crime, Joe & Twyla Williams and Randy & Sharon Ferris.

The family will receive friendís noon until service time Saturday at the church.

The service celebrating his life will be 2:00 pm Saturday, February 8, 2020

at Wesley First United Methodist Church, #1 Wesley Drive, Clute TX with Pastor Cameron Losoya officiating.

In lieu of flowers, donations may be made to Wesley First United Methodist Church or the Charity of your choice in memory of Terry Mitchamore.