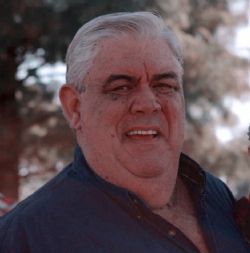 Jerry "Big Daddy" Metcalf

Jerry "Big Daddy" Metcalf
June 21, 1953 - May 9, 2020
Jerry Metcalf Sr. age 66, of Lake Jackson, Texas passed away on May 9th, 2020. Jerry, also known as, ďBig Daddy,Ē was born June 21st, 1953, in Gilmer, TX and moved shortly after to Thibodaux, LA. He spent most of his youth there, fishing and growing up in the swamps, as he loved to call it. When he was about 15 years old, his family moved back to Freeport, TX, where he graduated from Brazosport High School in 1971. Jerry was well known throughout the community for his years working for Weingarten Grocery Store, as well as being the Field Sales Manager of Champion Beers, and his time working at Wholesale Electric Supply. Jerry spent almost all of his free time playing softball around Texas with many people from high school and around Brazoria County. If you didnít find him on a softball field, he was sure to be saltwater fishing or hunting all over the state. He was a member of the Freeport Jaycees for many years during the late 80ís and early 90ís. He forever remembered and enjoyed his times helping with the Fishing Fiesta and being out in the community, he loved so much. Everyone that knew Jerry, knew that his main goal was to make everyone smile. Whether it was telling funny stories, making up goofy words, or pulling jokes on everyone, he was sure to leave his mark!

Jerry was preceded in death by his parents Sim A. and Jessie Mae Metcalf, and his brother Sim A. Metcalf Jr.

He is survived by his children Lindsey and Sean Simmons, Jerry Jr. and Katie Metcalf, Justin Metcalf, and Harley and Nathan Wilson. His Grandchildren include Kristofer, Taylor, Travis, Kenzi, and Bryce Simmons. Avery, Paige, and Dylan Metcalf. Oliver and Freya Wilson.

Pallbearers include, Terry Jeffers, Wesley Wilson, John Harlen, Tobey Simmons, Tim Lindsey, and Sean Simmons.

Honorary Pallbearers include his longtime softball friends and neighbors Mickey Lester, Tim Vern, Mike Waguespack, Joey Goens, and Allen Rogers.

Funeral Services will be held at Lakewood Funeral Chapel on Thursday, May 14th, 2020. Due to the current restrictions, the services will be for family only.

In lieu of flowers, the family is requesting donations be sent to the Pancreatic Cancer Society in Honor of Jerry Metcalf Sr. to further help research at pancan.org/donate.