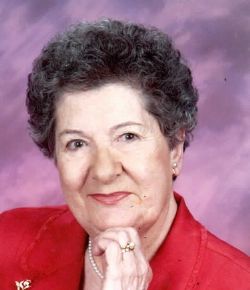 Dorothy Mary Vitek

Dorothy Mary Vitek
December 10, 1927 - May 20, 2020
Dorothy Mary Motl Vitek, 92, passed away May 20, 2020 in Lake Jackson, TX. A Funeral mass will be held. Dorothy was born December 10, 1927 in Wallis, TX to Bernard and Amalie Motl. She was the youngest of 7 children. Dorothy graduated from Wallis High School. On February 11, 1947 Dorothy married Cyril J. Vitek in Wallis, TX at Guardian Angel Catholic Church. They moved to Lake Jackson in 1953. They raised a family of seven children. Dorothy was a member of KJZT. She was one of the original members of St. Michael the Archangel Catholic Church in Lake Jackson.
She had a very prayerful life and many years before the Blessed Sacrament and devotion to the Blessed Mother.

She is preceded in death by her husband of 54 plus years, Cyril J. Vitek; parents, Bernard and Amalie Motl; sisters Mary Motl, Elizabeth Janik; brothers, Benjamin Motl and Ervin Motl.

She is Survived by her brothers Louis Motl, Gilbert Motl (Willie Mae); children; David Vitek (Betty) of Houston, Gary Vitek of Lake Jackson, Danny Vitek (Patricia) of Bastrop, Kathy Scott (Craig) of Lake Jackson, Mark Vitek (Julie) of Sugar Land, Karen Stephens (Eric) of Angleton and Randy Vitek of Lake Jackson; seven grandchildren; Kristen Jeter (John), Allison Vitek, Andrew Vitek, Ryan Stephens (Jessie), Blake Stephens, Austin Stephens, and Alexander Vitek. She is also survived by five great grandchildren; Luke Scott, Daniel Jeter, Benjamin Jeter, Raelynn Stephens, and James Stephens.

Pallbearers will be Grandsons; Ryan, Blake, and Austin Stephens, Andrew Vitek, Alexander Vitek, and great-grandson Luke Scott.