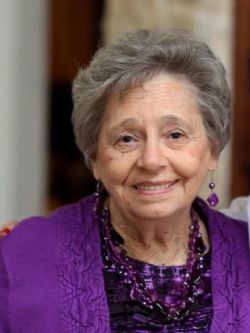 Marjorie Jean Boston

Marjorie Jean Boston
April 4, 1936 - January 20, 2021
Marjorie Jean Lobue Boston passed from this life on January 20, 2021. She was born on April 4, 1936 in Houston, TX to Vincent Joseph and Hazel (Gurley) Lobue. She grew up and attended schools in Houston. Margie met and married Robert E. Boston in 1952 while he was in the Army. After he left the Army, they lived in Oklahoma while Bob attended school. They moved to Lake Jackson in 1956. She worked for BISD for over 20 years, first in the educational program for deaf students, learning ASL and later in regular classrooms as an aide. She retired in 2000. After retirement she loved her volunteer work at the Brazoria National Wildlife Refuge where she shared her love of wildlife with school field trip groups, her grandchildren and lately with her great-grandchildren. She also volunteered for many years at Brazosport Cares Food Pantry and continued to volunteer at her church, First Baptist of Lake Jackson until March 2020 when the pandemic prevented it. She loved to travel, visiting Europe, the Holy Land, Galápagos Islands, South America/Antarctica as well as numerous cruises and trips with friends and family around the US. She loved to read, do crossword and word puzzles, shop, play cards and dominoes. Before the pandemic she had regular card game and weekly coffee with friends.

She was preceded in death by her parents, her husband, Bob and her son Bobby, and her younger sister, Patricia Weining.

She is survived by her three children, Patty Pierson (Joe) of Lake Jackson, Nancy Hodges (Brad) of Richmond and Scott Boston (Natasha) of Austin. In addition, she is survived by 10 beloved grandchildren, Jennifer Mullis (Michael) of Angleton, Anthony Pierson of Austin, Jarrett Boston of Texas City, Justin Mikulencak (Courtney) of East Bernard, Collin Mikulencak (Meghan) of Clovis, NM, Rachel Mikulencak of Austin, Sasha Boston of Keller, Sophia and Polina Boston of Austin and Allyson Kabboord (Kyle) of Texas City. She is also survived by her 4 precious great-grandchildren, Emery and Elijah Mullis, Ellis Mikulencak and Penelope Kabboord, her sister, Judy Clarke of Ponder, TX and her brother-in-law D.C Boston and wife Sandra of Lake Jackson along with many nieces, nephews and friends.

Pallbearers are Anthony Pierson, Jarrett Boston, Collin Mikulencak, Michael Mullis, Joe Pierson and Brad Hodges.

Honorary pallbearer is her deacon and friend, Dennis Leveron.

Visitation will be held on Tuesday, January 26, 2021 at Lakewood Funeral Home from 6pm to 8pm. Service will be Wednesday, January 27, 2021 also at Lakewood Funeral Home at 10:30am, followed by graveside service.

Due to Covid-19 concerns, we ask everyone who attends to wear a mask and practice social distancing.