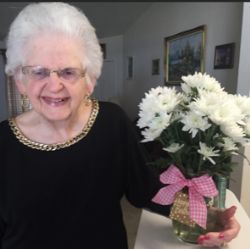 Elouise Katrina Hallmark

Elouise Katrina Hallmark
February 18, 1928 - February 1, 2021
Elouise Katrina Hallmark, of Lake Jackson, TX, gained her angel wings at the age of 92, and entered the pearly gates of Heaven on Monday, February 1st, 2021. Elouise was born on a farm in Wingate, TX on February 18th, 1928 to Horace (Dad-dad) and Katie (Mama-Kate) Sutton-Edwards. Her early life consisted of cotton picking on their farm, making straight A's, and helping provide for her family.

Elouise was always loving and caring at a young age. At just 16 years old, she found her true love, Darrel O. Hallmark. Shortly after, Darrel was stationed in California due to his career in the Air Force. He sent for her by train where they would soon begin their journey as newlyweds, they then remained married for 60 years, until his passing in 2005. Elouise was always known to be a woman of strong faith and loyalty. They had their son, Perry Hallmark Sr, in 1957. Living in Lake Jackson, they were members of the First Baptist Church, where Darrel served as a deacon and Elouise sang in the choir. They were involved with leading the youth group in bible studies and Sunday School. Elouise was employed by BISD throughout the years and served in administration and the library. After retirement, Darrel and Elouise moved up to Lake LBJ, where they helped build Hoover Valley Baptist Church from the ground up in 1987. Often, you could find Elouise behind the piano, playing and singing hymns to praise her Lord and Savior. She had the most glorious voice and could play the piano by memory. She became blind, but would still play and sing, up until the age of 92.

Elouise is survived by her son, Perry Hallmark, his wife Lanelle; grandchildren, Stephanie Bradshaw, her husband Michael; Perry Lee Hallmark Jr., his wife Erica; great-grandchildren, Ashley Lopez, Mason Bradshaw, Lauren Bradshaw, Braedon Hallmark; and step-grandchildren, Jacob Rich, Matthew Rich, and Chelsea Wallace.

She was preceded in death by her loving husband, Darrel O. Hallmark, parents, Horace and Katie Edwards, brothers, Gaddiss H. Edwards and Hubert M. Edwards, and grandson, Donald R. Hallmark.

Elouise's life will be celebrated at First Baptist Church, 401 Yaupon St. Lake Jackson, TX 77566. A visitation will be held on Thursday, February 4th, 2021, from 10-11 am with service beginning at 11 am.

Pallbearers will be, Perry Lee Hallmark Jr., Braedon Hallmark, Michael Bradshaw, Mason Bradshaw, Jacob Rich, and Matthew Rich.

Attendees are asked to wear a mask and respect social distancing guidelines.