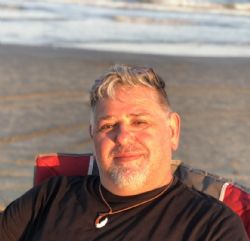 Nolberto "JR" Frausto III

Nolberto "JR" Frausto III
December 23, 1965 - February 5, 2021
Nolberto "JR" Frausto III, loving husband, father and brother, devoted son and generous friend, left us entirely too soon on Friday February 5, 2021 at the age of 55.

He was born on December 23, 1965 in Del Rio, Texas. He attended Southwest Texas State University, where he met his wife of 28 years, Vicki Starks Frausto. They were blessed with 5 beautiful children, Nolberto "Bear", Victor, Diego, Emily and Max, all of whom have grown into remarkable young adults. JR was fiercely proud of his children and loved to brag about them to anyone who would listen.

Since his passing, friends have described him as being "larger than life." JR was incredibly service-minded and active in his community. He was a Lions Club member, a Knight of Columbus, a scout leader and a sergeant in the Texas State Guard. Of his many roles and accomplishments, he is probably best recognized for his lifelong involvement in Boy Scouts of America. He started as a Cub Scout at 9 years old, achieved the rank of Life Scout, and was active in the program at nearly every level from volunteer, merit badge counselor, scout master, and camp director all the way to BSA Program Specialist at his local scout camp. After a decade of camping and staffing at Camp Karankawa in Sweeny, Texas, his wife and children will always cherish the memories they made with him as a scouting family.

Likewise, his time in the Texas State Guard was a living example to his children of the importance of volunteer service. SGT Frausto had a passion for helping others in every way that he could, which was illustrated by his participation in Operation Lonestar during hot Texas summers, his contributions to hurricane and flood relief for weeks at a time, and in his willingness to drop everything to help his fellow Texans and guardsmen. He was well loved for his cheerful manner and protective nature during deployment and training.

He carried that same dedication into everything he did, from being a small business owner and entrepreneur, to teaching others as a firearms instructor, to earning his 8th degree belt in Bujinkan Budo Taijutsu and in every other endeavor. His wife consistently describes him as the most fascinating, multifaceted person she's ever known.

Thankfully he left a legacy of service, humor, leadership, and love to carry his family through their loss.

Nolberto "JR" Frausto is survived by his wife, Vicki Starks Frausto, his children Nolberto "Bear" Dionicio Frausto IV, Victor Quentin Frausto, Diego Sebastian Frausto, Emily Rose Frausto, and Maximus Alexander Frausto; Parents Rosie and Larry Phillips; brother Roy F Hurley and family; sister Becky Pendergrass with her husband John, and family; mother-in-law Nancy Starks; beloved nieces, nephews; aunts, uncles and cousins; numerous extended family and very dear friends.

He is preceded in death by his father Nolberto Frausto Jr; grandparents Nolberto Frausto Sr, Elida Frausto, Oscar Gonzalez and Amalia Forehand; father-in-law Victor J Starks; and sister-in-law Kerith Sproul Hurley.

Graveside services will be held in Del Rio, Texas at a later date. The family will celebrate Nolberto "JR" Frausto's life with a private mass at St. Jerome Catholic Church, officiated by Father James Lynes. JR's children will serve as pall bearers.

The family will receive friends at a public memorial service on Friday February 12, 2021 at 325 East Brazos Avenue, West Columbia, Texas from 4 pm to 8 pm. At 5 pm we invite loved ones and friends to share recollections and remembrances through prepared statements for a portion of the service which will be recorded and made available for those who cannot attend. Attendees are asked to observe distancing and mask requirements.