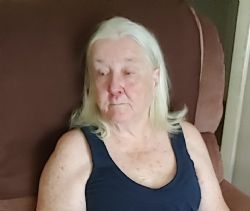 Runnie LaRue Hensley

Runnie LaRue Hensley
January 20, 1940 - February 18, 2021
Our queen Runnie LaRue Hensley went to heaven on February 18, 2021. She was born January 20, 1940, in North Zulch, TX.

She was preceded in death by her, mother; Hortey Lucille Lawson, father; Clarance Lawson, sister; Lena Harris, brothers; Jerry and Jessie Lawson.

She is survived by her, daughters; Janice Doucet, Mary Johnson (Edward Johnson), Judith Escobedo (Johnny Escobedo), sons; Alton Hensley (Laura Hensley) and Jimmy Hensley. She also has 23 grandchildren, 24 great grandchildren, 2 great-great grandchildren and 3 great-great-great grandchildren.

The family will be having a private family visitation at Lakewood Funeral Home on Friday, February 26, 2021.