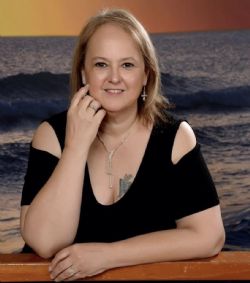 Edith Marie Cady

Edith Marie Cady
July 5, 1957 - March 7, 2021
Funeral services for Edith Cady, age 63, of Lake Jackson, Texas will be held at 2pm on Monday, March 15, 2021 at Brazos Pointe Fellowship with Randy Dane officiating. Interment will be held at Angleton Cemetery. Family will receive friends at the church at 1pm until service on Monday, March 15, 2021.

Edith was born on July 5, 1957 in Lake Charles, LA, to Harry and Jacquelynn (Perkins) Self, SR. She was a loving mother, grandmother, sister and daughter. Edith loved to travel with the love of her life PK. She also enjoyed spending time with her family and friends.

She is survived by her son; Jimmy Cady Jr and wife Jenny, daughter; Jennifer Simoneau and husband Marvin Jr., grandchildren; Ashton Cady, Alexandria Cady, Andrew Simoneau, Kaelyn Simoneau, Tristan Perez, Aryanna Cady and Jacquelynn Cady, great-grandchildren; Xander Clayton, brothers; Harry Self Jr. and wife Sally, Robert Self and wife Lena, sister; Mary Groth and husband Donald, boyfriend; PK Khosravani and his children John and Laura Khosravani and a host of other family and special friends.

She is preceded by her parents, Harry and Jacquelynn Self.

Pallbearers will be Ashton Cady, Andrew Simoneau, Tristan Perez, Jimmy Cady, Jr., Marvin Simoneau, Jr. and Cully Davis.

Honorary pallbearers will be Harry Self, Jr., Robert Self, Donald Groth and PK Khosravani.