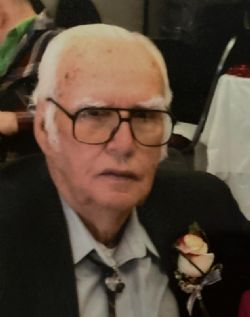 Robert Lee Norris

Robert Lee Norris
July 4, 1923 - July 7, 2021
RL Norris, 98, of Clute, left this life on Wednesday, July 7, 2021. The family will receive friends at the Lakewood Funeral Home at 12 p.m. followed by funeral services at 1 p.m. on July 9, 2021, with Jim Belcher officiating. Interment will be will held at Restwood Cemetery in Clute, TX.

RL was born on July 4, 1923 in Eustace, TX to Annie Lee Smith Norris and Raphael Norris. RL grew up in Athens, TX. He served our country in the United States Navy from Sept. 1942 to the end of WWII in 1945. On Feb. 15, 1945, while on shore leave, RL married his bride Irene (Monk) Norris of 76 years. The couple had 3 daughters Gloria Jean Perry, Vickie Lynn Haish and Wanda Jo Coker.

RL and Irene have been long time members of the Clute Church of Christ since moving here in the 1950's. RL was a member of the Clute Volunteer Fire Department in from 1954 to 1972. RL was awarded the honor of Admiral of the Texas Navy from Gov. Mark White in 1986. He helped start the boy's baseball Pony League for Clute, followed later by the first Clute girls' softball team and the Clute Girl Scouts. RL worked at the Dow Chemical Co. plant in Freeport for 33 years as an operator.

During his retirement, RL served as the Brazosport Museum of Natural Science curator of Mineralogy. For many years, RL met with fellow veterans and contributed to the National Destroyer Escort Association. He also volunteered at Sea Wolf Park in Galveston.

RL is survived by wife Irene, daughters Vickie Lynn (Freddie) Haish and Wanda Jo (Steven) Coker; grandchildren: Becky (Robbie) Duke, Robert (Laura) Perry, Eddie (Amanda) Haish, Kim (Rowdy) Webb, Crystal (Chris) Nunn, Courtney Hammond (Mack Coleman), Stephanie Coker (Kyle Palmer) and Ken Scott; great-grandchildren: Gwen (Nathan) Lycan, Christina (Bobby) Elkins, Lee "Buck" (Lynzey) Duke, William Perry, Dakota (Heather) Webb, Aaron Haish, Randal Perry, Sierra Webb, Zackery Nunn, Skyler Hammond, Madeline Haish, Daniel Hammond, Hayden Nunn, Evan Nunn, Carson Scott and Irelynn Scott; great-great-grandchildren: Cheyenne, John, Caleb, Julianna, Sonya, Gunnar, Ryan and Mara; as well as many nieces and nephews.

He is preceded in death by mother Annie Lee Sorenson, father Raphael Norris, sisters Alice Cade and Margie Stogner, daughter Gloria Jean (& husband Ben) Perry, and grandson Thomas Perry.

Pallbearers will be William Perry, Lee Duke, Dakota Webb, Aaron Haish, Randal Perry, Zackery Nunn, Daniel Hammond and Hayden Nunn.

If desired, memorial donations may be made to IPH Hospice or Brazosport Museum of Natural Science.