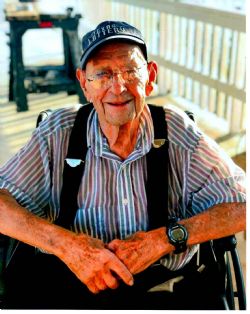 Charles Kouches

Charles Kouches
September 4, 1919 - July 21, 2021
Funeral services for Charles Kouches, Sr., age 101, of Freeport, TX will be held 2:00pm on July 29, 2021 at Lakewood Chapel with Deacon Felipe Garza officiating. Interment will be held at Restwood Cemetery. A rosary will be held at 1:30pm. The family will receive friends at Lakewood Chapel at 11:00am – 1:30pm on July 29, 2021.

Born on Sept. 04, 1919 in Freeport, Texas he married Rose Lara - Sept. 16, 1939. He worked and retired from Dow Chemical in 1975. In addition to working full time, he also owned businesses - Poppa Burger, Josies' Beauty Pavilion, Freeport Drive-in Grocery, Mitchell's Pier. Mr. Kouches, aka-Pop & Pawpaw, was 101yrs old when he went to be with the Lord and be reunited with his family. To his family he was a great and amazing man, he was always there to help us all with whatever he could, to give us love and advice. He is loved by his surviving son Johnny, grandchildren, great children & great-great grandchildren and all his extended family and friends. We all know he's still watching over us from above and he will be forever missed. Many thanks to Oak Village Healthcare for the care they provide during his stay, with special thanks to his caregivers and 'Sandra'.

Survivors include; Son- Johnny Kouches & wife Maria; Grandchildren- Jason Kouches & wife Jessica; Alicia Kouches Cordova & Husband Joaquin; Christina K. Hernandez & Husband Oscar and Jonathan Kouches; Great-grandchildren- Amber Erickson, Kristin Heald, Kaleb & Kolton Kouches, Ian & Stella Cordova, Oscar, Amaya & Emilia Hernandez and Kassidy Kouches; 3 Great-Great- grandchildren & many extended family members.

Preceded by; wife of 71 yrs. Rose Lara Kouches; Children- Charles Kouches, Jr & wife Jeanie Kouches, Josephine Kouches Cox and Mitchell Kouches. His parents- Mike and Stella Kouches; Siblings- Rosie Beal, Helen Vick, Pauline Dearman and Mike Kouches; Grandchildren- Gary Cox and Michelle Cox.

Pallbearers will be; Jason Kouches, Jonathan Kouches, Kaleb Kouches, Ian Cordova, Kolton Kouches and Oscar Hernandez III.

Honorary Pallbearers will be; Oscar Hernandez, Jr., and Joaquin Cordova.