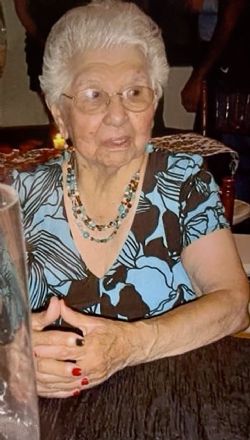 Viviana Salinas

Viviana Salinas
December 2, 1921 - January 5, 2022
Viviana Gutierrez Salinas

December 2,1921 –

January 5, 2022

Born in Victoria County, Texas, to Guillermo and Inez Gutierrez. Married Fernando Salinas September 7, 1940. They relocated to Freeport, Texas, in 1944.

Viviana worked with BISD for several years until she retired and went on to work for Intermedics for eight years.

Viviana celebrated her 100th year birthday with friends and family on December 2, 2021 and received her angel wings on January 5, 2022.

She is survived by her siblings, Olivia Garcia, Willie Gutierrez (Rosie), Archie Gutierrez (Emma). Survived by her children, Maria Aurelia Garcia, Fred Salinas (Rachel), Frank Salinas (Norma), Margaret Garcia, Abel Salinas (Mary), Rosie Esquivel (Albert), Zenaida (Sandy) Gonzales. She is survived by 25 grandchildren; 51 great grandchildren, and 34 great-great-grandchildren.

Viviana was preceded in death by her husband, Fernando Salinas; daughter, Olga Salinas; daughter, Adelita Salinas, son-in-law, Tommy Garcia, son-in-law, Felipe Garcia; sister, Bertha Jasso; sister, Alicia Ramirez; brother, Amando Gutierrez.

Services will be held Wednesday, January 12, 2022 at Lakewood Funeral Home, 98 Dixie Dr Lake Jackson TX 77566. Viewing for family 5:00 p.m. Viewing for public 6:00 p.m. to 8:00 p.m. and the Rosary at 7:00 p.m.

Funeral Mass on Thursday, January 13, 2022 will be held at St. Michaels Catholic Church 100 Oak Dr. S Lake Jackson, Texas, at 10:00 a.m. following the mass, the burial will be at Gulf Prairie Cemetery in Jones Creek, Texas.