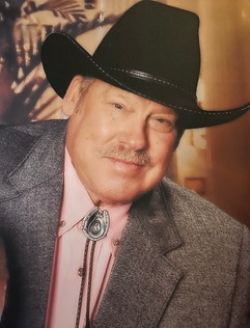 Donald Edward Schultz

Donald Edward Schultz
April 15, 1941 - January 5, 2022
Donald Edward Schultz
April 15,1941 –
January 5, 2022

Donald "Don" Edward Schultz born April 15,1941 and passed away on January 5, 2022 after a long term illness, surrounded by his loving family. Don was born in Bryan, Texas, to Evelyn and Rudolf Schultz.

Don was married to Frances Howe on May 4, 1984, 37 wonderful years ago.
He was a true cowboy at heart. Don wore many hats during his lifetime, but his cowboy hat was his favorite. He received his first horse and saddle at four years of age, and went on to raise cattle for must of his life. His grandchildren very affectionately called him "Cowpa".
Don played football in high school and went on to play at Stephen F. Austin, he held many different jobs during his life before becoming a rigger at Dow Chemical in Freeport, Texas, where he was known as"Vern".

He and Frances enjoyed a wonderful life, after his retirement he enjoyed taking cruises and trips making enough memories to last a lifetime.

Don was preceded in death by his sons, Troy Don Schultz and Richard Eugene Barnhart; sisters, Frances Harben and her husband, Bob, of Amarillo; and son-in-love, Phillip Clark.
Don is survived by his wife, Frances Howe Schultz; daughter, Natalie Clark; Robert and Stacey Barnhart; sibling, Rudy (Linda) Schultz, the Howe Family, Paula Staggs (James), Dale Howe (Pat) Bruce Howe (Michelle), Patti Oliver (Ed); grandchild, Steven Barnhart, Cody Clark (Valerie), Robert Craig Barnhart, Mackenzie Barnhart, John Harris, Kayla Moffitt (Jerad), Addison Howe; nine great-grandchildren, and a host of nephew and nieces that all loved him dearly.
Services will be at 11:30 a.m. on Saturday, January 8, 2022, with visitation 10:30 to 11:30 p.m. at Lakewood.

Pallbearers will be Cody Clark, Jerad Moffitt, Steven Barnhart, Robert Craig Barnhart, John Harris, Logan Harben, Trey Schultz.
Honorary pallbearers will be the Rigging Dept. in Plant "A" in Freeport.

Don Schultz was a very loving husband, daddy, grandpa, uncle, brother, and most of all, friend, He will be forever loved and missed by all who knew him.