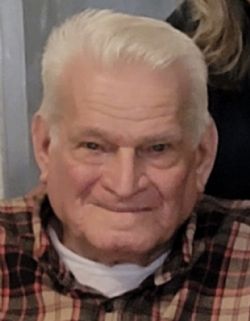 Leaman C Hazelton

Leaman C Hazelton
April 14, 1929 - April 21, 2022
Leaman C Hazelton passed away April 21st, 2022, at the age of 93, from natural causes.

Leaman is survived by his stepdaughter, Teresa Fendley, and husband Jerrod; by sons James Paul and wife Mylen, David and wife Linda, and Joseph Stephen and wife Jo Ellen; and by brothers, sisters, grandchildren and great-grandchildren. He was preceded in death by his first wife Virginia in 1980, his second wife Bessie Mae in February; by his stepson Steven Holmes; and by his parents.

The funeral will be 2:00 PM on Tuesday, April 26th, with visitation at 1:00 PM at Lakewood Funeral Chapel in Lake Jackson, Texas. Burial will be in a private ceremony at Springs Chapel Cemetery near Hugo, Oklahoma.

In lieu of flowers, the family suggests donations to Church of Christ-India, c/o Van Miller, 501 Kirchwood Street, Plainview, TX. 79072-5809.