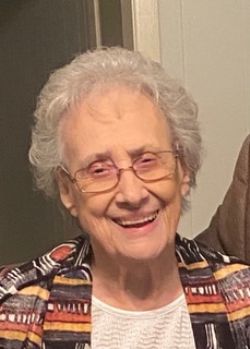 Catherine Womack

Catherine Womack
March 19, 1932 - May 13, 2022
Catherine Capps Womack, our sweet Gran, born March 19, 1932, in Bedias, Texas, to Arnold Darries Capps and Ethel Annie Upchurch Capps, passed away on Friday, May 13, 2022 at 5:36 p.m. She had been sick, fighting several different issues, been in and out of hospitals and in the nursing home since the end of January. When she heard her husband and soulmate of almost 67 years had passed away suddenly, we think, she could not bear to be without him and just gave up. She passed away exactly 11 days after he did. We are absolutely overwhelmed and heartbroken over losing both of them so close together.

She started her life in Bedias, Texas growing up there as a small child then moving to Freeport, Texas with her parents and younger sister, Donnie, when she was 11 years old. She graduated from Brazosport High school in 1950. She very much enjoyed going back often to Bedias to visit relatives. She and her sister never forgot that Bedias was home and always enjoyed reminiscing their childhood there and their beloved grandmother, Memmaw.

After attending secretarial school in Houston, she pursued her career at Dow Chemical as a purchasing agent. She truly enjoyed her job and the people she worked with.
She met her sweetheart, John Richard Womack Sr, they dated and married on May 20, 1955, they almost made it to their 67th wedding anniversary. They bought a house in Freeport on Avenue H and had their two sons, John Richard Jr (Jay) and Darryl 'Brent', while living there. They built their life long home together in Clute and moved in 1974. They had a very long and healthy life together both working at Dow and retiring after 35 years.

After retirement, they enjoyed traveling in their RV especially to Fredericksburg and Astros training camp in Florida. They enjoyed following the Exporters football, both home games and away.
Her passions were: being a mom of two boys, gardening and keeping a nice yard, hosting and cooking delicious meals especially at holidays or birthdays and her many daily conversations with her sister, best friend and lifelong companion (Donnie). One of her favorite lifelong activities was visiting nurseries and looking at plants and flowers. Even being sick in the nursing home she was wishing she would be able to go to visit a few nurseries. When younger, she could often be found in her flowerbeds working to maintain them and keep them beautiful.

When the time came, they immensely enjoyed having grandchildren, they treasured the time they got to spend with them and watching all of their activities! Their grandchildren were absolutely the light of their lives! Catherine was always a supporter of the activities her kids and grandchildren chose to pursue and could be found on the sidelines rooting them on! Not only did they adore their grandchildren, but their grandchildren adored them also! They were always thrilled to see their grandparents in attendance of whatever activity was going on. Catherine was always kind and supportive to her family and friends.

She is survived by her two sons, John Richard Womack Jr. (Jay) and wife, Anita, of Angleton and Darryl 'Brent' Womack, wife, Rhonda and grandchildren, Braydon Kyler, Bryson Chance and Brylee Nicole, all of Lake Jackson; niece, Laura and husband, Bob Cramer.

Service will be at Lakewood Funeral Home in Lake Jackson, Texas Wednesday, May 18, 2022 visitation 1:00 - 3:00 p.m. with service following at 3:00 pm.