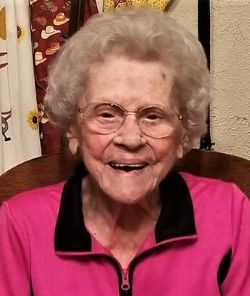 Ruth Evelyn Munnerlyn

Ruth Evelyn Munnerlyn
December 20, 1916 - May 25, 2022
Ruth Evelyn Cannan Munnerlyn, 105, of Lake Jackson, Texas went home to be with her Lord and Savior on Wednesday, May 25, 2022. She was born on December 20, 1916 to William and Zula Cannan in Humble, Texas.
She was a Brazoria County resident for most of her life. She spent her elementary days in Freeport where she walked to school regardless of the weather. Ruth had to pass the Freeport Jail where the "scary lady would 'woo'" at her, making her run home from school. She moved to Angleton her fifth-grade year and graduated from high school in 1935. She lived through many historical events like the Great Depression, gulf coast hurricanes and mind-boggling technology . She met the love of her life, Munn - an Aggie from Waco, at a dance hall near Bay City, where she and her friends would go dancing. They hit it off and were married a year later in 1936.
Ruth is now reunited in heaven with husband, James "Munn" Munnerlyn; son, Dick Munnerlyn; son-in-law, Mike Weatherly Sr.; granddaughter-in-law, Sandy Weatherly; along with many more family and friends.
She is survived by her son, Charles "Butch" Munnerlyn and his fiancé, Jackie Brewer; daughter Janie Weatherly; grandson, Mike Weatherly; granddaughter Michelle Weatherly; and special granddogs, JJ, Gracie, and Bailey.
Ruth was a wife, mother, grandmother, sister, cousin, and a dear friend to many people. She loved her Astros, especially Altuve, and has a legacy brick laid at the Hall of Fame Alley at Minute Maid Stadium in her honor. She loved to sew for her family and she really enjoyed spending time with family and friends.
Visitation will be on Thursday, June 2, 10:30 a.m. at First United Methodist Church in Lake Jackson with a celebration of her life following at 11 a.m. Pastor Lynne Settlemyre will be officiating. Interment will be at the Angleton Cemetery.
Pallbearers will be Mike Weatherly, Larry Kitchens, Kelton Thomson, and Ralph Hendricks.
Our family would like to thank family and friends for your thoughts, prayers, phone calls and texts. We'd also like to say a special thank you to Dr. Amin and the staff on the second and fifth floors of Chi St. Luke's Brazosport Hospital for taking such great care of our Mom and Memaw.
In lieu of flowers, donations can be made to First United Methodist Church or charity of your choice.
If you are unable to attend, the service will be live streamed via Facebook.
Funeral arrangements by Lakewood Funeral Chapel.