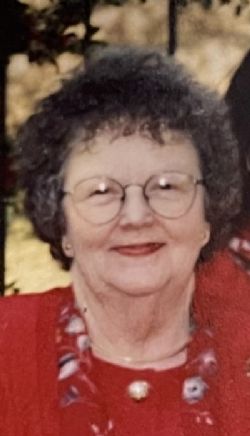 Barbara Ann Gray

Barbara Ann Gray
December 7, 1931 - June 14, 2022
Barbara Ann Perry Gray, 90, of Brazoria Texas passed away Tuesday, June 14, 2022.

Barbara was born December 7, 1931 in Nacogdoches, Texas to Ephraim Virgle Perry and Gladys Naomi Schnorr.

She was preceded in death by her Husband of 59 years Edward Horn Gray, two brothers Charlie and Virgle, and sister in law Janet Knellinger.

Survivors include her three children Cynthia Ann Turner, Linda Gail Gray, and Edward Alan Gray, along with three grandchildren Lynn, Krys, and Larry, her brother James Perry and many extended family members and friends.

Barbara enjoyed cooking, especially cakes. We also have many memories of picking black berries for cobblers. She spent a lot of time in her gardens. She canned many green beans, sweet pickles, tomato relish, strawberry fig preserves, etc. She also loved tending her shrubs and flowers. As an accomplished seamstress she made many of our school clothes. Even Dad wore a pink checkered shirt on our vacations because we all had to match! Later she learned to crochet and cross stitch. Many of her crochet shawls and afghans were given to her children, grandchildren, and friends. Cross stitched pictures and pillows are scattered throughout our homes. Barbara loved her family. When we were little she enjoyed babysitting her nieces and nephews. Together with Linda there were trips with the grandchildren. During her working life she worked a year at Ethel Dow, then became a mother and when her children were in junior high and high school she worked for Monical and Ray, and retired from U S Contractors to spend time with family. Church was very important to her and she lived to follow Jesus. We will miss her cooking, family gatherings, and laughter.

Funeral Services will be Saturday, June 18, 2022 at Lakewood Funeral Chapel, 98 N. Dixie Dr. Lake Jackson TX. Family will receive friends from 9:30am until the Service time of 10:30am, officiated by David Weaks. Reception will follow at Lakewood Chapel. A private interment will take place later at Cedar Lawn Haven of Rest in West Columbia Texas. The family request in lieu of flowers donations be made in Barbara's name to the National Kidney Foundation, 30 East 33Rd Street, New York NY 10016.