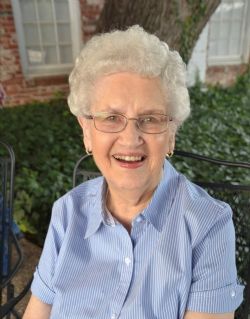 Grace S Winn

Grace S Winn
November 19, 1926 - June 18, 2022
Faith became sight for Alma Grace Schneider Winn as her Lord and Savior welcomed her into His presence on Saturday, June 18, 2022. She leaves behind a legacy in what matters most -- faith in her Lord and love for her family and friends.


Strong, fun-loving, and servant-hearted, Grace collected friends from all over the world, watched over her family and extended family well, and faithfully loved and served her Lord, pointing others to Him.


Named for two of her mother's schoolteacher friends, Alma Waller and Grace Hogan, Alma Grace was born to Laura Kerlin Schneider and Carl Watson Schneider on November 19, 1926, at home on "the old Schneider place" on the far northwest side of the Farmer Community in the Texas panhandle near Ralls, Texas.


Grace was the first of six siblings, all born within the next 10 years: Carl Glendon, Clyde Kerlin, Finis Earl, Launa Joyce and JoAnn Virginia. With each of their births, a deep connection was formed that lasted her entire life.


Very active children, Grace wondered how their mother survived rearing them. The children made a good team but got into mischief. Wanting to make a shower, the boys drilled holes in the barn roof over the cottonseed bin. Grace climbed on the roof carrying water and poured it through the holes for the boys to enjoy their new shower. Their mother caught them before Grace could have a turn. Their dad was mad not only about the holes in the barn roof, but also about the ruined cotton seed he was saving to plant.


Farming life was hard during the depression, with dust storms and tornado warnings causing trips to the cellar and a small house with no indoor plumbing and an outdoor toilet. However, Grace remembered a happy childhood where she always felt loved and secure.


The family got their first car when Grace was in elementary school. When the REA (Rural Electrification Administration) and electricity came to the area, she was happy she could sit in any room and read rather than be near the kerosene lamp. A wind powered windmill pumped their water. The family didn't have a refrigerator until moving to Plainview in 1943.


Grace loved her Grandad Kerlin, and as the oldest grandchild, walked to his house a mile away, spending time with him and getting to sleep in his big feather bed, and running around his chair as he tried to catch her legs with the crook of his cane.


Farmer School, where Grace attended, was about a half a mile from their house, had an outside toilet and was heated with big coal stoves. The winter of her first grade was bad and most of the time only she and one other boy, in second grade, were in school. Grace did his schoolwork with him, completing both first and second grades that year.


Grace accepted Christ at age 12 in a revival meeting at the community's church which alternated monthly between itinerant Methodist and Baptist preachers. Before that she was very afraid to die, but never had that fear again after accepting Jesus. She faithfully followed Him her entire life.


Riding the bus 12 miles to high school in Ralls, she graduated in 1943 at age 16, with 37 students in her class. The summer after graduation she and her brothers hoed cotton, making about 50 cents an hour and earning enough money to pay for her first year's college tuition.


In 1943, at age 16, Grace enrolled at West Texas State Teacher's College in Canyon, living in Cousins dormitory, enjoying college life and new friends, majoring in elementary education and active in the Baptist Student Union and First Baptist Church. The start of World War II meant most of men were in the military. However, service men trained on campus and that made life interesting. During her summers Grace worked in a tire rationing office in Plainview, for Montgomery Wards and for local co-op elevators.


Graduating in May 1947, Grace taught third grade in Perryton, Texas for two years, before moving to Albuquerque, New Mexico in September 1949, where she taught third grade at 5 Points School. She met Bill Winnat a singles Church Training group at First Baptist Church. Their first date was on October 31,1952 for dinner and a movie. Subsequent dates consisted of attending the Billy Graham tent revival and then getting an A&W root beer afterwards. Grace always told Bill he married her because she was such a cheap date!


Bill asked Grace to marry him in January and a month later he took a job in Maryland. Grace didn't see him again, or meet his parents, until he and they came for the wedding. Grace laughed, "It worked out well for me, but I don't recommend that plan!"


Grace married her Bill at First Baptist Church, Plainview, Texas on June 20, 1953.


The newlyweds settled in Frederick, Maryland where Bill worked as a chemical engineer. Grace taught third grade and had a Girl Scout Troop with her friend Barbie Nelson. In 1954 the couple moved to Joplin, Missouri where Grace taught 5th grade and Bill worked for Grace Chemical Company.


A year later, Bill took a job with Ethyl Dow Chemical Company, moving them to Lake Jackson, Texas. Grace taught third grade at Brazoria Elementary in Brazoria, Texas for a short while, leaving when she found out she was pregnant. Two sweet additions to the family came in Lake Jackson with the births of Laura Kathryn and Nancy Claire. Grace always told them how much they were wanted, planned and loved.


In Lake Jackson, the couple joined First Baptist, which was 12 years old at the time, just like the town.

For the 60 years plus years they lived in Lake Jackson, Grace was an active member of the church, serving in leadership with the Women's Missionary Union (WMU), serving on the missions committee and overseeing the mission house, hosting visiting church speakers and guests, serving at the church's beach mission called The Anchor, working with Girls in Action, rocking babies in the nursery, and teaching in the singles group. She also volunteered in Kathy's and Nancy's youth or missions groups, getting to know their friends well. Most Sunday nights would find friends from church hanging out at the Winns playing ping pong or volleyball and enjoying good food.


Early on Grace helped found "International Friends," to teach literacy and conversational English to international women whose husbands came from around the world to work at local industrial plants. Serving with the organization for almost 50 years, Grace touched many in the community and in later years people would tell the family what a difference she made in their lives by helping them learn English.


Through International Friends Grace met Lua Thi Scott and her baby daughter, Lan, from Vietnam. They became like family as Grace helped to care for Lan and taught Lua Thi English and how to drive.


For many years Grace had a regular Bible study in her home for her international ladies, many of whom were not Christians. She became friends with several Japanese women, coming to think of them as her Japanese daughters, even visiting them in Japan.

Every holiday Grace would invite over anyone who didn't have a place to go. Many times, that would be an international far from home. There was always room for one more at Grace's table.


Curious and a great conversationalist, with the gift of hospitality, Grace continually had people to her home. Her home was a place where everyone was welcome any time. Nieces, nephews and grandkids all enjoyed coming to the Winn's house – playing Chicken Foot and card games, fishing in the creek, eating Grace's homemade bread, going to the shell museum. On trips to Surfside beach Grace would catch a bucket of sea water and sand from the waves and then examine it with whatever kid was around. When out of town family came, early mornings always meant everyone piling into Grace's bed, laughing and talking. Fun-loving and active, Grace loved to get Kathy, Nancy and then nieces, nephews and even grandkids down on the floor and kiss them, saying, I'm gonna get your sugar!" They loved it and so did she.


An avid reader, when the grandkids were assigned a book in school, she would read it too and discuss it with them. As a teacher, she enjoyed sharing the excitement of reading as each grandchild or great-grandchild – each new first-grade reader - sat and read to her.



Always ready to celebrate and enjoy life, the grandkids and great grandkids remember the tea parties with real cloth napkins that Grace had for them. She had a closet full of fun for them to dress up, create and pretend. Even-tempered, a good listener and patient, she always asked good questions and was ready to talk to the grandkids and give calm answers. Granddaughter Bethany cherishes her late night talks with her grandmother.


Faithful in her walk with the Lord, each morning the family saw Grace's open Bible and devotion book lying on the kitchen table


Seeming to never age and driving her car until she was 92, Grace often joked with granddaughter Emily that she whenever she was old, she would sit on Emily's lap.


Curious about the world and with a broad world view, Grace was always ready for the next trip, whether that was touring the U.S., multiple international vacations or mission trips in the States and abroad, including Japan, Korea, Israel, Egypt, Thailand, Singapore, China, Hong Kong, England, Greece, France, Switzerland, Norway, Denmark, Poland, Germany, Sweden, Scotland and Wales. Missions trips included church building projects in Colorado, Senegal for a construction project, Russia for prayer walking, Romania for church construction, New Zealand for church encouragement, Colombia for a conference and prayer walking, and Belgium to work in a print shop.


Believing in following the Lord wherever He led, after early retirement Bill and Grace went to the Philippines in 1990 for a year to work as International Service Corps volunteers with the Southern Baptist International Mission Board. A happy time. she fell in love with the Filipino people as she mentored women while Bill worked at the Seminary.


In 1992, while in Abidjan, Ivory Coast for 18 months. Bill worked in the publishing house and Grace tutored children and was mission guesthouse hostess. To the amazement of the missionaries, Grace taught some of the local ladies to read and write French, even though she knew very little French. On a later visit the ladies read Scripture to her and Grace cried, it was so rewarding.


While taking a French class at the university in Abidjan, a student demonstration broke out and shots were fired but Grace hid in a classroom until she could safely find the other missionaries. Another time, she was carjacked while driving missionary kids to school. Again, she made it through safely. With those and many other crazy adventures, the grandkids joked that Bill and Grace were probably secret agents.


In 1995 the Winns spent seven months in Bamako, Mali where Bill filled in at the office and Grace worked with refugees. Then in Nairobi, Kenya they spent three months living near daughter Kathy Smith and her family who were missionaries, Bill worked at the Seminary office and Grace enjoyed being grandma. The Smith girls remember fun times after school when Grace had an upside down/backwards party where they wore their clothes backwards and all the furniture was upside down.


After another stay in Ivory Coast, the Winns again visited the Smiths who'd moved to Turkana, near Lodwar, Kenya. Sara remembers Grace teaching her to sew during the visit.


Wanting her grandchildren to have a broad view of the world, Grace and Bill took them on extended family trips in the States and overseas. She made sure they saw the world and received an education – not just in school -- but experiencing things that many kids don't get to see. She helped her grandchildren see there was a big world out there that they should go and experience.


Married to Bill for more than 65 years, she always laughed at his jokes, no matter how corny.

He called her his "amazing Grace" and she certainly was. She always felt secure in his love.


Not a perfect woman, Grace Winn had a perfect Savior which resulted in a life lived well. She passed on her faith to the next generation and that legacy extends to her children, grandchildren, and great grandchildren. That will last for eternity. We will see her again. That's why we celebrate today.


Grace was preceded in death by her parents, her husband of 65 years, Bill, and her beloved sister Joyce. She is survived by her loving daughters Kathryn Smith and husband Glen of Belton, Texas and Nancy Peevy and husband Gary of Rogers, Arkansas. Her beloved grandchildren are Sara Beth Robertson and husband Andrew, Emily Mylabathula and husband Sagar, Laura Smith, Bethany Peevy, Will Peevy and wife Elizabeth, and her great grandchildren – Hannah Robertson, Benaiah Robertson, Aletheia Robertson, Joshua Robertson, Nathanael Robertson, Imani Robertson, Abigail Mylabathula, Selah Mylabathula, Uriah Mylabathula and Ruby Peevy.