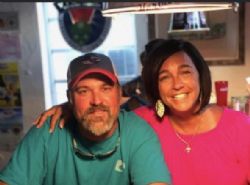 Nenad David Baron

Nenad David Baron
July 2, 1969 - August 7, 2022
Julie and Ned Baron passed away on August 7th after a boating accident.

Julie was born in Philadelphia on September 26, 1969, to parents Phil and Elizabeth Bonnet, and was raised in Medfield, Massachusetts. Her adventurous spirit had her leaving home at early age and moving across the country to finally settle in Texas where her son Tyler was born in 1994.

Ned was born on July 2nd, 1969, in Freeport Texas to Big Ned and Sharon. Ned and Julie met in 1997 on the Gulf Coast waterfront where Julie was working for Fling Charter and Ned at Baron Marine Ways. Ned later inherited this business from his father. Ned and Julie were married in the Spring of 1999. A year later they added daughter Mackenzie into their family and Julie started working alongside Ned running the family business. Both Ned and Julie loved the Gulf Coast and proudly showed visitors what the region had to offer through Blue Fin Charters, the business they started together.

Julie and Ned were extremely engaged parents, never missing a baseball, softball, or football game, and attending countless tournaments when their kids were involved. Avid hunters, the family enjoyed spending weekends and holidays at their deer lease playing games and sitting around the bonfire visiting with friends and family.

Julie started participating in the rescue squad organization early on and served for many years working with adoptees and those of unknown parentage to identify and reunite with their biological families. Called a search angel by many she earned her wings giving searchers the ultimate gift of family.

6 years ago, Hurricane Harvey devasted our area. Julie has always had a special love for animals. At that time, however, she set out on what became her mission in life to help the many distressed animals in our county. Julie first served as a volunteer at the SPCA of Brazoria County and later, on the Board of Directors before taking on the role of co-Shelter Director and Transport Manager. Her purpose was to save them ALL! As many of you know, Julie relentlessly fought for and never ceased to work towards accomplishing this goal, literally saving thousands of animals along the way. Her impact on the animal welfare community in this county, in Texas, and beyond is immeasurable as is the enormous respect and admiration for Julie.

Ned spent many years growing the family businesses, proud to provide for his family and support all their endeavors. Ned was a man of the Gulf Coast enjoying flounder gigging and hunting with his buddies. A passionate BBQ cook he and his friend won numerous cookoff trophies always donating the prize money to non-profit organizations. Ned encouraged his wife's passion for animal welfare, donating his time and many a delicious crawfish boils to the cause! Ned also spent many years serving on the Brazoria Southwest Go Texan Committee, where he was a past Captain.

Aside from their civic involvement, Ned and Julie cherished spending time with their children, Tyler and Mackenzie and helping them thrive by encouraging their goals and dreams. Julie and Ned leave precious memories with son Tyler Ince and daughter Mackenzie Baron. Julie is also survived by her mother Elizabeth Bonnet, her father Phil Bonnet and his wife Jenny, her brother Tim Bonnet and numerous aunts and uncles. Ned is survived by his mother Sharon Moore, sister Gina Baron, and numerous aunts and uncles.

Serving as Pallbearers for the service will be Ross Watkins, Lee Weidner, Tracey Allen, Trey McCann, Vince Cannon, Jared Wines, DJ Kuchar, Jerry Monical, Rick Huber, Eric Simmons, Mark Friudenberg. Honorary pallbearers will be Jeff Stanley, Richard Monical, Greg Bryington, and Dawson Bryington.

Funeral services will be held on August 17th at noon at the Brazos Pointe Fellowship Church (679 Brazoria Road, Lake Jackson, TX 77566) which will be followed by a private family graveside service. The family will receive friends at 5:30 pm for a celebration of life at Capt. Marks Marina ( 4515 Trammell Road, Freeport (Demi -John)

In lieu of flowers, the family asks that you consider donations to the SPCA of Brazoria County (www.spcabc.kindful.com).