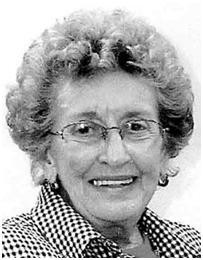 Bobbie C Jones

Bobbie C Jones
December 7, 1928 - April 12, 2011
Bobbie C Jones, 82, of Lake Jackson went home to see her Lord on April 12th, at Hearthstone Asst. Living. Bobbie was born on December 7th 1928 to Charlie and Audrey Carter in Angelina County.
She was preceded in death by her parents as well as her husband of 40 years, Herman Jones. She is survived by her daughter Melinda Farris and husband Stan of Brazoria, 3 grandchildren, Jacob Norsworthy and wife Brooke of Lake Jackson, Jenny and Julie Farris of Brazoria,
She was a member of the First Baptist Church of Lake Jackson since 1976, a member of the Mary Martha Sunday School class in which she played many rolls and did them very well.
She was a very special person and has lots of friends. She was always making sure that everyone was taken care of, by either a phone call or writing a card or letter even if she had never met them.
She was also a "Pink Lady" at Brazosport Regional Hospital for many years. She loved going there to see who was in the hospital so she could pay them a special visit.
Her favorite love was her 3 grandchildren. They were the light of her life and there is also a great -grandbaby on the way which she is so excited about.
Special thanks go to IPH Hospice, Ann Nesbitt and her team and also all of the wonderful people at Hearthstone who took care of her until the very end.
The family will receive friends 12:30 pm until service time at 2pm Sunday, April 17, 2011 at Lakewood Funeral Chapel.
Honorary pall bearers are the men of adult 3 Sunday school class at First Baptist Church of Lake Jackson.