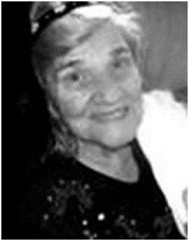 Frances Lea Nettles Smith

Frances Lea Nettles Smith
September 24, 1930 - April 21, 2011
Frances Lea Nettles Smith, beloved wife of Paul Smith for 61 years, was also the best mom and grandmother God ever put on Earth. Born in Port Arthur, Texas, September 24, 1930, to Thomas Houston Nettles and Fannie Elizabeth Carter, she was raised a very spirited country girl in Gloster, Mississippi. She met her husband at Southwest Mississippi Jr. College and enjoyed being a military wife, moving all across the Southern USA from coast to coast till her husband retired in 1975. Her favorite of his duty stations was Guantanamo Bay, Cuba. Her heart's home was always Mississippi and they chose to retire in Bastrop, on KC Drive because it reminded her so of Mississippi. Frances and Paul lived on KC Drive from 1979-2008 til they moved to Smithville for health reasons. "Frances, Sweetie, Mom, Memama", was a devoted Christian.
On April 21, 2011, she left behind her beloved husband, Paul; sister, Margaret Shive, Brandon, Mississippi; brother, Mickey Nettles, McNeal, Mississippi; and her sisters-in-law, that she always just called sisters, including Jean Nettles, McNeal, Mississippi, Edith Taylor, of Picayune, Mississippi, Eugenia Smith, of Seattle, Washington and Celeste Smith, Tennessee, and Mary Smith (d), Indianola, Mississippi; Fran's five daughters, and their families include, Valerie and Wayne Coskrey, of Starkville, Mississippi, Renae and Ronnie Duncan, of Bastrop, Texas, Sue and Terry Lannen, of Old Ocean, Texas, Wendy and Joe Sterling, of Converse, Texas and Tammy and Kenneth Grable, of Brazoria, Texas; grandchildren include, John and Denise Williams, Teresa Cummings, Ronnie and Laura Duncan, Randy and Vanessa Duncan, Holly and Greg Lanthier, Wesley Lannen, Kathleen and Wayne McBee, Jessica and Anthony Phillips, Shawnah, Brian and Blake Grable, Keegan and Killian Sterling and Danny Moore; and many other adopted grandchildren. With that she has 12 great grandchildren.
Memorial services will be held at Old Ocean First Baptist Church, April 30, 2011 at 3 p.m., and the grandchildren will hold a special memorial in Bastrop, Texas on May 15, 2011.