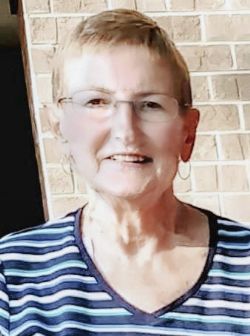 Glenda Fansher

Glenda Fansher
May 28, 2018
Glenda Washam Fansher, resident of Freeport for 37 years, passed away on May 28, 2018, peacefully in Houston while surrounded by friends and family after a long illness. A native of Talladega County, Alabama, she graduated from Winterboro High School. She moved to Tampa, Florida where she met her husband. In 1981 they set out west landing in Freeport, TX to "strike it rich" and started a family business. For a number of years, Glenda helped manage Gulf Gate Marine, a ship chandler and industrial laundry company servicing maritime industry, drilling rigs and oil production platforms along the coast, from Galveston to Corpus Christi. Instead of discovering oil, they found friendly and welcoming people where bonds and lifetime friendships formed. Glenda later worked for Ken Williams at Williams Motor Parts in the accounting area. In the late 90's she joined the Brazoria County Justice of the Peace Precinct 1, Place 2, office, working for Judge Steve Upton and later Judge Milan Miller. She retired as the head Chief Court Clerk, after almost 20 years of dedicated public service that she found rewarding. She treasured meeting many interesting people through out the county and beyond.

Glenda enjoyed reading, collecting cookbooks, was an avid NASCAR racing fan, and to say she loved Alabama football would be an understatement! She opened her heart and home to international exchange students, enjoyed the time spent with her pets, traveling the US, cruises and taking Panama and oversees trips. She appreciated Deacon Wallace Shaw's homilies, the St. Mary's folk and Spanish choir music, and looked forward to the annual church festival and auctions.

Glenda was preceded in death by her parents, Anita Paris Washam and Noah Lee Washam; brother James Wayne "Rocky" Washam. She is survived by her husband of 35 years, Larry Fansher; brother-in-law Bill Fansher; sister-in-laws, Virginia F. (Larry) Hoyt III, Loretta F. Chandler, Janine (Eric) F. Melcer; Charlotte S. Washam; and cherished nephews, Kyle S. Washam, Garrett Melcer, Nathan Chandler, Larry Hoyt IV and nieces Deanna Boscia, and Skylar Melcer.

A Celebration of Life Memorial Service will be held on Saturday, June 16, 2018 at St. Mary's Star of the Sea Catholic Church. Visitation is at 10:00 a.m., music dedication at 10:30 and Mass at 11:00 a.m. Father Jesse Garcia will preside with the assistance of Deacon's Wallace Shaw and Felipe Garza. In lieu of flowers, a charitable donation may be made to the St. Mary's, Freeport, TX youth ministry or the St. Vincent de Paul Society.