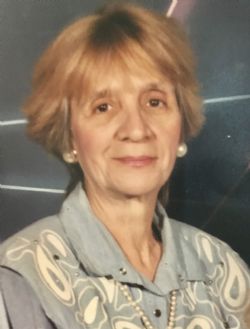 Elsa Leticia De Gonzalez

Elsa Leticia De Gonzalez
December 19, 1928 - November 22, 2018
Elsa Leticia Zorro de Gonzalez of Santa Marta, Colombia, South America passed away peacefully at her daughter's home at the age of 89 on November 22, 2018. Elsa was born on December 19, 1928 in Santa Marta, Colombia.

We mourn the loss and celebrate the life of Elsa or also known as "Peyo", by her beloved grandchildren. Her joy for life was captivating. She was the president of the Catholic Daughter's at the Catholic Cathedral of Santa Marta. She volunteered for many years at El Hospital de San Juan De Dios de Santa Marta, and Hospital Seguro Social de Santa Marta and for the RedCross of Santa Marta. She distributed toys and food for the less fortunate daily for many years. She volunteered as the activity director of San Jude Tadeo Nursing Home in Cartagena, Colombia. Elsa was selfless with her time, resources, and love. Elsa was the life of every party she attended and could out dance anyone.

Elsa is preceded in death by her parents; Demetri Zorro and Gertrudis Zorro Celedon, her husband; Antonio Gonzalez Villa, and her sons; Roberto Gonzalez, Alfredo Gonzalez, and Cesar Augusto Gonzalez.

She is survived by her son, Jairo Gonzalez Zorro, and her daughters, Elsy Ashwood, Anna Denness, Victoria Grether, Glenia Stump, and Monica Thigpen; 14 grandchildren and 11 great grandchildren.

The memorial service will be held Tuesday, December 18, 2018 at 11:00 am at St. Michael's Church located at 100 Oak Dr. S, Lake Jackson, TX 77566. Send flowers or make donations to St. Micheal's Church.