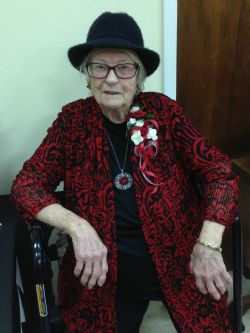 Martha Louise Vance

Martha Louise Vance
January 7, 1920 - March 22, 2019
Martha Louise was born on January 7, 1920, in Freestone, TX to Fred and Martha Estell "Stella" Gilliam. She was the middle child and only girl. She grew up on a farm and learned early about the things that were important. She went home on March 22, 2019, at the age of 99 years, 2 months and 2 days.

On January 6, 1945, she married a soldier named Wilmer "Bill" Vance. They knew each other 3 weeks and were married over 63 years at the time of his death in 2007. They had 2 children.

Louise was a loving wife, mother and Granny. She believed in God and shared His love with others. To the end she praised Him.

She was preceded in death by her parents, her brothers Leonard Gilliam and Bob Gilliam and sister-in-law Pauline Gilliam.

She is survived by her son, Norman Vance and wife Linda and daughter, Tanya Sharp and husband Jimmy, granddaughters Rachel Vance and Cassidy Cardozo and husband Jesus, and sister-in-law Corky Gilliam. She is also survived by nephews Robert Gilliam and Paul Gilliam and wife Rosanna along with great-nieces and nephews and friends who loved her.

Her heart and her home were always open.

She leaves behind her a hole that may never be filled.

The family will receive friends at Lakewood Funeral Home on Tuesday, March 26, at 10 am. The service will be at 2 pm in the same location. Interment will be at Union Cemetery in Freestone, TX, on Wednesday, March 27, at 2 pm.