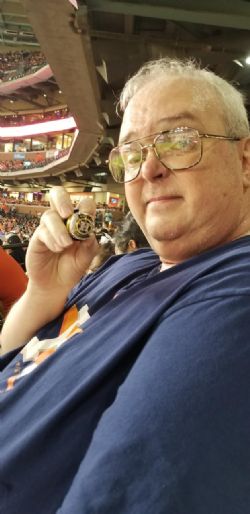 Bryan Allen Porter

Bryan Allen Porter
October 16, 1958 - March 30, 2019
Memorial Service for Bryan Porter, age 60, of Clute, TX will be held at 11:00AM on April 12, 2019 at First United Methodist Church of Lake Jackson on Azalea St. with Pastor Lynne Settlemyre officiating.

Bryan passed away Saturday March 30, 2019.

Bryan was born in Freeport, TX on October 16, 1958 to parents Robert Porter and Maxine Porter. He graduated Brazoswood High School in 1977 to then attend Sam Houston State where he graduated with his Bachelor of Fine Arts in 1981. He was employed by Dow Chemical for 35 years and was an active member in the International Union of Operating Engineers Local 564 until he passed. He loved all sports but was a huge Houston Astros fan, attending numerous games and had a large baseball collection. In 2017 he retired so he could spend time at home with his family and play with his grandchildren who he enjoyed being around the most and loved getting to watch them play.

He was also preceded in death by his Parents, Robert Porter and Maxine Porter, Grandparents, and his Daughter-in-law Ashley Porter.

His survivors include; Wife, Laurie Porter; Daughter, Monica Porter and significant other Paul Martinez; Son, Glenn Porter and significant other Tori Pierce; Brother, Dean Porter and wife Beth Porter; Nieces, Kristen Porter, Kaitlin Barnes, Meisha Mowers; Nephew, Nicholas Mowers; Grandchildren, Shawna, Dillon, Aaron, Valerie, Ryanna, Melanie, Soren, Damien, Harper, and Adalyn.