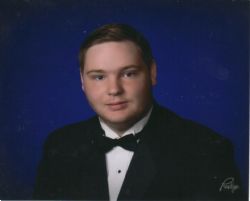 John William Redden

John William Redden
December 20, 2000 - April 16, 2019
Funeral services for John William Redden, age 18, of Lake Jackson, Texas will be held at 11:00 a.m. on Monday, April 22, 2019 at First Baptist Church of Lake Jackson with Rev. Chad Alexander officiating. Interment will be held at 2:00 p.m. at Restwood Memorial park. The family will receive friends at First Baptist Church at 10:00 a.m. on April 22, 2019.

John William Redden, a unique, warm and funny soul with a beautiful mind, left us on April 16, 2019 to be with his Savior, Jesus Christ. He was born on December 20, 2000 in Houston, Texas, to parents Ron and Ellie Redden. In addition to his parents, John also leaves behind two sisters, Mollie and Emma. He was and will always be dearly loved by his family, friends, classmates, church mates and extended family.

John was one of a kind. He had a quick wit and a keen mind. He was actively involved in Brazoswood High Schoolís Robotics and Rockets programs, as well as his Robotics III-Drones class. He was looking forward to traveling with the Goddard Rocket Team this June to launch their rocket at the White Sands Missile Range in New Mexico. He valued his friendships with his classmates, and he loved to find Memes he could share with them to brighten their day. He was very proud of the accomplishments on the Robotics Team this year. He was also proud that he earned his FAA Remote Pilotís License in November. He valued the friends from each of those programs and had the utmost respect for their gifts and accomplishments.

John also valued his friends from his church youth group. John went to church early on Sunday mornings to spend time with his friends and to play video games with them. He loved his Sunday School Teachers and was exhibiting tremendous growth in the Lord. He also loved his youth minister, Skyler Sikes, who was having a profound influence on his life. John had a relationship with Jesus Christ, having received Christ as his Savior, following Him in believers Baptism.

John will be missed terribly, but he leaves behind a legacy of having touched and influenced the lives of nearly everyone with whom he interacted. Truly, he is gone too soon, but his legacy will live on in the hearts and minds of the dozens of family members, teachers, school administrators, students, Sunday School Teachers, fellow members of his youth group, along with friends and police officers from the Lake Jackson Police Explorers.

John is survived by his parents, Ron and Ellie Redden; his siblings, Mollie and Emma Redden; his paternal grandparents, Wanda and Johnnie Redden; and his maternal grandmother, Mary Ann Rankin. He is also survived by his aunts, Carol Beugeler (Butch) and Lee Ann Stephens (Donnie); as well as his uncles, Richard Redden (Cathy) and Bill Rankin (Lorna). He leaves behind numerous cousins, great aunts and uncles as well.

Pallbearers will be Royce Mullins, Aaron Haisch, Montwin Delton, David Rankin, Dale Hobbs and Brad Whitehead.

Honorary pallbearers will be the Brazoswood High School Robotics team, the Brazoswood High School Robotics Drones class and the Brazoswood High School Goddard Rocket team.

In lieu of flowers, the family asks that donations be made to the Brazoswood High School Robotics Program, 302 Brazoswood Drive, Clute, Texas 77531.