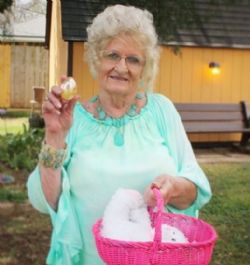 Eileen Repp

Eileen Repp
January 17, 1936 - May 2, 2019
Eileen Repp of Lake Jackson, Texas passed away peacefully on May 2, 2019 surrounded by her loving family. She was born on January 17, 1936 in Baytown, Texas to Willard and Ethel Olney. She was married to the love of her life, Thomas Repp and they lived a life full of adventure as avid Harley riders, well known throughout the Brazosport area. She had a lifelong career as a Nurse at the area Hospital and Nursing Homes.

She was preceded in death by her husband; her parents; one brother; and two sisters.

Eileen is survived by her sister, Pat Costello, of Madisonville Texas; brother, Vernon Olney, of Beach City, Texas; and her children, Tresa Poole and husband, Sydney, of Dayton, Texas, Glenn Repp and wife, Darlene, of Friendswood, Texas, Thomas Repp, of Lake Jackson, Texas, Donald Repp and wife, Christy, of China Springs, Texas. Eileen was blessed with 10 grandchildren and 11 great-grandchildren. She will be missed dearly.

The family invites friends to celebrate her life with us. Visitation for our beloved Mother will be on Tuesday, May 7th 2019 from 5:00 p.m. until 8:00 p.m. Funeral services will follow on Wednesday, May 8, 2019 at 10:30 am. at Lakewood Funeral Chapel.