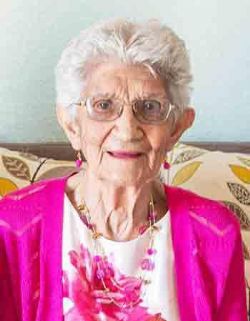 Alice Gutierrez Ramirez

Alice Gutierrez Ramirez
November 24, 1931 - August 28, 2019
Alice Gutierrez Ramirez, 87, of Lake Jackson passed away on August 28, 2019. She was born on November 24, 1931 in Victoria, Texas to Guillermo Gutierrez and Ynes Cantu Gutierrez. In 1950, she wed the love of her life Paul Ramirez and was happily married for 48 years until his passing.

Alice was a devoted Catholic, founder, and lifelong member of St. Jerome's Catholic Church. In the church, she served on the Catholic Daughters of Americas, taught CCE for many years, and was active with church festivals. She enjoyed spending the weekends with her family walking on the beach and took pride in her beautiful gardening skills. Her passions included traveling, crossword puzzles, solitaire, watching her "shows", and cooking. As the family matriarch, Alice taught her family how to be strong followers of Christ and how to live with love, compassion, forgiveness, and courage. As a strong, beautiful woman, she motivated her family by leading as an example through her everyday actions. Alice was everyone's grandma and people loved seeing her everywhere she went.

Alice was preceded in death by her parents; son, Paul Ramirez Jr.; husband, Paul Ramirez; brother, Amando Gutierrez; and sister, Bertha Jasso.

She is survived by three daughters, Peggy Ramirez, Phyllis Cantu (Johnny), and Pamela Maseda; eight grandchildren, Melanie Henderson, Brandi Peden, Heather Mendoza (David), John Paul Ramirez, Vanessa Gutierrez, Roxanne De La Rosa, Jonathan Allemang, Estevan Cantu, Veronica Cantu Shaw (Aaron) and Jaden Shaw ; and ten great-grandchildren, Shelby Ford (Tyler), Brayden Peden (Jorden), Isaiah Martinez-Mata, Caden Ramirez-Walker, Ila Mendoza, Iliana Mendoza, Charisma Gutierrez, Josiah Ruiz, Damian Ramirez; and one great-great-grandchild, Jaxson Peden; two brothers, Willie Gutierrez and Archie Gutierrez; and two sisters, Viviana Salinas and Olivia Garcia; and numerous nieces, nephews, and other relatives.

The visitation will be from 5 p.m. — 8 p.m. on Friday, August 30, 2019 at Lakewood Funeral Chapel. The rosary services will commence at 6 p.m. Funeral services will be at 10:00 a.m. on Saturday, August 31, 2019 at St. Jerome's Catholic Church with Father Jim Lynes officiating.