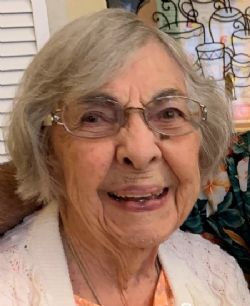 Clara Bess Moore

Clara Bess Moore
January 17, 1925 - September 24, 2019
When Clara entered heaven on September 24, 2019 she was reunited with Tom, her loving husband of 75 years. She was a kind woman with a big heart, a smile on her face, great sense of humor and a zest for life. She often said "I'm ready for a margarita on the rocks with salt, Mexican food and dancing".
Born to Guy and Anna Clara Matheson in Hattiesburg, MS, on January 17, 1925, Clara spent many weekends at the Service Drug Store eating Ice cream or at the movies watching Nelson Eddy movies and eating chocolate covered cherries.
It was in Hattiesburg where she met and married WWII B-17 Pilot Tom Moore on December 27, 1942. After working in Monroe, LA as a Seal Lily Ice Cream distributor, with children (and Skeeter the dog) in tow, they moved to Lake Jackson where Tom was hired at Dow Chemical Co. They joined the Lake Jackson Presbyterian church where Clara was a member of the choir. Clara worked as a Pink Lady at the Dow Hospital and was later employed by BISD at AP Beutel as a secretary. After the children graduated, She and Tom traveled across the country in a Schnook, stopping at many landmarks, just looking at the Countryside
After Tom retired from Dow, they moved to Jonestown, Tx where for 25 years they enjoyed a life of travel, Square dancing, swimming in the lake and each other. Her creative spirit came alive at the lake house. She created many costumes for the parties they attended: Adam and Eve, The old farmer and his Cow, WC Fields and the Flapper and many others. She and Tom spent time working in the garden and remodeling their lake house.
Clara and Tom moved to Sun City, TX where Clara became a member of the Happy Tappers Dance and Hill Country Singers with Tom always there supporting her endeavors. Clara remained a member in good standing until moving back to Lake Jackson in 2013.
Clara loved her family and was forever teaching, laughing and playing with the kids. When the grandchildren visited there was always churned ice cream, playing on the dock and exploring the property. Life was always and adventure with Grandmomma.
Clara will be missed but never forgotten by her children and their families. Left to cherish her memory are daughter Llewellyn Pederson (Bruce) and son Eric Moore (Jenny). Grandchildren April Falzone (Corey), Jared Falzone (Taylor), Curt Pederson (Jessica) , Matt Pederson (Christy), Brad Pederson Jason Moore, Kellie Fredsholm (Pete), Keith Moore, and Tamara West (Mark). Great-grandchildren include Rebekah Flaherty, Elizabeth Flaherty, Alan Pederson (Rachel), Max Blain (Rachelle), Faith Pederson, Lane Pederson, Kailie Pederson, Emily Pederson, Ryan Pederson, Nic Fredsholm, Emily Fredsholm, and Calvin West.
A private memorial service will be held in the spring at their beloved Lake house.
Gifts in memory of Clara may be shared with the Covenant Evangelical Presbyterian Church, 102 Yaupon St, Lake Jackson, TX 77566.