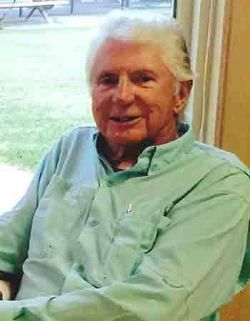 Billy Carl Parsons

Billy Carl Parsons
March 29, 1935 - September 29, 2019
Funeral services for Billy C. Parsons, age 84, of Angleton, will be held at 11:00 a.m., Saturday, October 5, 2019 at Lakewood Funeral Chapel. The family will receive friends at Lakewood at 10:00 a.m. on Saturday, October 5, 2019.

Billy Parsons passed away on September 29, 2019. He was born on March 29, 1935 in Groesbeck, TX, to Wesley and Althea Parsons. His family moved to Brazoria County in 1940 where he continued to live most of his life.

Billy began welding in the mid-1950s and soon became known as an extraordinarily gifted welder. He enjoyed helping young welders learn their craft as an instructor in the Welding Apprentice Program in Brazoria County.

In 1971, Billy and pipe fitter Vernon Burke established Brazos Pipe & Steel, which started a long and successful history that included an expansion to Corpus Christi as well as a field construction division named BIC that provided site erection. Throughout his career, he became highly respected in the Heater Fabrication business, often telling the engineers "if you can engineer it, we can build it!" This was his motto and their clients respected him for it. Over time, BP&S developed a worldwide customer base that supplied fabricated steel and pipe products to Europe, Asia, and South America. In 2009, he retired and provided five key employees the opportunity to purchase BP&S. Billy wasn't just a leader, boss, or mentor – he became family to many of the employees because of the way he treated them with kindness, generosity, and sincere concern.

His family legacy was one of generosity and giving of himself in the most elaborate ways. He delighted in watching the joy of his family at his ranch, beach house, and family gatherings. A favorite of his was fireworks, which he began loving as a child. This love led to his firework displays becoming legendary within his community, with many family and friends waiting anxiously each year for New Years and July 4th celebrations. Billy also went the extra mile to mark life celebrations, especially at Christmas time.

Billy was a kind and humble man that had a great love for the outdoors. Whether it was coaching little league, or hunting and fishing, his delight was in the happiness of others. When he found exotic places to hunt or fish, he always found great joy in sharing with his friends and family. However, catching fish or hunting birds was always secondary to being in the great outdoors with his sons, family, and friends.

Billy was preceded in death by his parents, Wesley and Althea Parsons; and a sister, JoAnn Christ.

He is survived by his sons, Mark Parsons (Sarah), and Steve Parsons (Christine); grandchildren, Lindsey, Lezley, Lauren, Amanda, Matthew, James, and Christopher; great-grandchildren, Anthony, Ava, Ari, R.J., Alexis, Miranda and Kinley; his brother, Wesley Ray; his sister, Caron Wise; and many nieces, nephews and cousins.

In lieu of flowers, the family requests donations be made to the National Alzheimer's Association of Houston & Southeast Texas, 6055 South Loop East, Houston, TX 77087-1005.