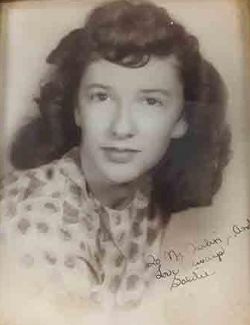 Goldie Ann Anderson

Goldie Ann Anderson
June 27, 1931 - March 19, 2020
On Wednesday, March 18, 2020, Goldie passed away at age 88. She was born on June 27, 1931 in Freeport, TX to Sidonia and Joseph Guidry. Goldie grew up in Freeport and had many friends. She touched so many people and never met a stranger.

Goldie had a survived a tornado in 1943 in Freeport which killed her mother and best friend. June 19, 1948, Goldie married Lyle F. Anderson and together had four sons. In 1958, she survived polio and was in an iron lung for six months. Goldie was a true believer in God, family and friends. So many words can describe her, just look in the Webster's Dictionary and if you look hard enough, you might see her picture under such words as kind, honest, loyal, loving and unconditional.

Goldie was preceded in death by her parents; her husband, Andy; son, John Marcus Anderson.

She is survived by three sons, Gary, Mike (Amy); Terry (Cheryl); step son, Roland Anderson; twelve grandkids and 14 great grandkids.

She is so loved by everyone that in normal time the church would be packed and people would be lining the streets to see her.

To respect her wishes, she would have wanted everyone to stay home, safe, during this virus outbreak. We will have a Celebration of Life at a later date.