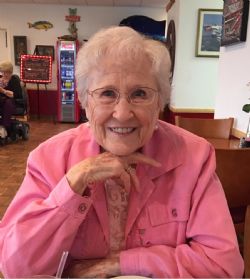 Louise Brown

Louise Brown
June 14, 1925 - April 7, 2020
Louise Eaves Brown, 94, longtime resident of Lake Jackson, passed away on April 7, 2020 after a brief illness due to complications following surgery. She was born Melva Louise Eaves on June 14, 1925, the fourth child of Fred Cyrus Eaves and Erma Neill Eaves in Kokomo, Texas, a community in Eastland County, Texas.

Louise met Preston T. Brown when they worked together during World War II at Consolidated Vultee Aircraft Co. in Fort Worth, Texas, building airplanes for the war effort. This started a lifelong love story and they were married August 30, 1945, two weeks after V-J Day. They were together for 45 years until he preceded her in death, August 7, 1990. Louise and Preston moved to Angleton in the early 1950s, to Freeport in 1954 and then to Lake Jackson in 1962 after Hurricane Carla.

Louise worked for Dow Chemical Company for over 30 years as a secretary, first in the Legal Dept., then in the Patent Dept. Louise was a member of Covenant Presbyterian Church in Lake Jackson for almost 60 years and developed countless close friendships with members of her church family throughout those years. Louise was also a member of Beta Sigma Phi for almost 70 years and was one of the last surviving members of her chapter.

Louise is survived by her twin children Gary S. Brown and his wife Joyce, and Dr. Betty L. Brown and her husband Daniel Murphy; four grandchildren, Gary S. Brown II and his wife Lena, Gregory S. Brown, Gina Louise Brown and Jenny Cowan and her husband Andy; and three great-grandchildren, Olivia Brown, Holland Cowan, and Riley Cowan. She is also survived by sister-in-law Verda Jean Eaves, numerous nieces, nephews, grandnieces, grandnephews, great-grandnieces, and great-grandnephews, whom she loved dearly and who treasured her in return.

Many of these relatives and other admirers were on hand to witness Louise's third skydiving jump in celebration of her 90th birthday, having completed her first jump at 80 years old, and a second jump when she was 85. Louise was an adventurer, interested in learning and experiencing new things, and was able to travel extensively during the last 25 years of her life, making it to six out of the seven continents.

During the current coronavirus crisis, the family plans to have a small, private graveside service at Lakewood Funeral Home and Restwood Cemetery. We hope to have a proper memorial service and celebration of Louise's life at a later date when gathering is once more permitted. Honorary pallbearers are Glendal Laminack, Lyndon Laminack, Donald Eaves, Jack Norris, Mark Eaves, Joe Pillow, Calvin Smith, Mark Peterson, Randy Lewis, and Walter Willy. The family would also like to acknowledge Caroll Hearn, Andrea Walker, Margaret Curran, and Brian Giambelluca, her wonderful friends and neighbors who have been so thoughtful and helpful during the last few years.