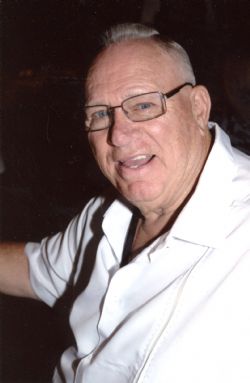 Louis Wayne Botard

Louis Wayne Botard
September 20, 1942 - June 16, 2020
Louis Wayne Botard went to his heavenly home to be with his Lord and Savior on June 16, 2020.

Louis was 77 years old, born on September 20, 1942 in Eagle Lake, Texas. His parents were O.L. "Ottie" and Mabel "Coochie" Botard.

Following his high school graduation Louis attended Blinn College and Texas A&I on a football scholarship. Louis was an outstanding athlete throughout his school days. In 1966 Louis joined the United States Air Force. He was stationed in Georgia, California and served "Boots Down" in Vietnam. He was honorably discharged in 1970 as a Master Sergeant.

Louis enjoyed the outdoor life and had many wonderful adventures. An avid golfer, Louis was able to play the courses at Pebble Beach in California, Doral in Florida and The Old Course at St Andrews in Scotland. He enjoyed elk hunting with friends and family in Colorado. On his 60th birthday Sharlotte surprised him with a fishing trip to Alaska where he spent the days fishing for halibut, salmon and trout while enjoying God's beautiful country. His pride and joy was his 100# yellow catfish caught in the Brazos River, and he would show the picture of that catfish to anyone that would look. Louis also loved hosting and cooking for his Willow Church class members' annual Fish Fry each Fall.

Left to cherish his wonderful memories are his wife of 45 years, Sharlotte; daughters, Rachael Barber and husband, Scott, of North Palm Beach, Florida and Tina Green, of Austin; his bonus children, Kim Miller and husband, Charles, of Lake Jackson, Phil Dellinger and wife, Paula, of Lake Jackson and Bill Dellinger and wife, Suzanne, of Angleton. Louis was blessed by his seven grandchildren, Nathan Green, Mackenzie Barber, April Dellinger, Justin Dellinger, Emily Stokes with husband, Christopher, Allison Dellinger and Michelle Drynan White (deceased). He leaves behind one precious great-granddaughter, Lorelei Raine White. Also left to mourn him are his sister-in-law, Debbie McGarity and her husband, Charlie; and brother-in-law, Dennis Clements and his wife, Vicky; special aunts, Dot Janak and Ruth Koehn; as well as his former wife and mother of his children, Joyce Graham. His many cousins and his Willow Church Sunday school class members were all very special to him as well.

He will be welcomed at Heaven's gates by his parents; in-laws; special granddaughter, Michelle; and his four-legged companion, Pebbles.

Pallbearers will be Nathan Green, Justin Dellinger, Phil Dellinger, Bill Dellinger, Charles Miller and Charlie McGarity.

Honorary pallbearers will be Scott Barber, Dennis Clements, J.B. Robertson, Jim Ross, Jim Boyd and Buddy Malone.

Visitation will from 9:00 a.m. until 10:00 a.m. Friday, June 19th, 2020, at Willow Church, Lake Jackson, Texas with the service following at 10:00 a.m. Burial will be at the Cheetham Cemetery in Sheridan, Texas at 3:30 p.m., Friday, June 19th, 2020.

Memorial donations can be made in Louis' honor to The Gathering Place for Alzheimer's. 200 E. Mulberry Angleton, Texas 77515. Louis loved his weekly visits and friends at The Gathering.

Special thanks to Country Care Village in Angleton and his loving caregivers where he resided for the last 21 months. Jacque, Izzie, Sawyer, Dee, Ercelia, Angela, Fed, Katelyn and Annie provided wonderful, loving care.