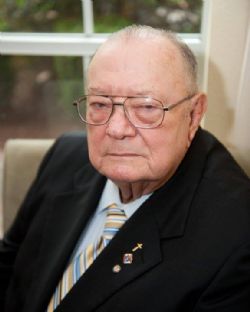 Edward J Roznovsky, Jr.

Edward J Roznovsky, Jr.
November 17, 1929 - July 16, 2020
DWARD J. ROZNOVSKY CLUTE, TEXAS – Edward J. Roznovsky Jr., 90, passed away July 16, 2020. He was born November 17, 1929 in Shiner, TX to Edward and Josephine (Maly) Roznovsky. He met the love of his life, Helen Mae Gillar, at a community dance in Witting, TX and he'd tell you the best day of his life was September 5, 1951, when he married her at St. Joseph Catholic Church in Moulton, TX. Together they enjoyed a wonderful marriage two months short of 69 years.

After serving as a Corporal in the US Army during the Korean War he was hired as a Plant Operator with Dow Chemical and moved his young family to Clute, TX on June 1, 1953. Helen's dream was to have a pink house with white shutters and Edward made her dream come true; gladly adding on to the house years later and enjoying his workshop in the back. Edward and Helen raised four boys in that house, and together with a small group of families, they were part of the founding families of the St. Jerome Catholic Church in Clute, TX just a few blocks away. He was a life member of the Knights of Columbus 1949-2020.

Even after losing his left leg to cancer at the age of 39 he never slowed down. He was always making something or working on something, often enlisting the help of his boys. There was a time when he bought them an ice cream scooter so they could drive around town selling ice cream and he enjoyed helping coach several of their sports teams.

After 32 and a half years with Dow, he retired at the age of 56 to focus on his farm in Shiner, TX. He and Helen split their time between the farm and their home in Clute. They enjoyed bringing their grandchildren to stay with them at the farm during the summers. From evening hayrides, fishing at the pond, and chasing cottontails and jackrabbits during late-night drives in his old green truck, he made their time together memorable. He loved his farm, calling the cows in to feed, growing the "best hayfield in Lavaca County", and building his own farm equipment with his personal modifications. He was a member of the Texas Beefmaster Breeders Association.

Edward is survived by his beloved wife, Helen Roznovsky; son, Michael Roznovsky (Betty) of The Colony; son, Anthony Roznovsky (Liz) of Lake Jackson; son, Gerald Roznovsky (Patti) of Lake Jackson; son, David Roznovsky of Clute; 5 grandchildren and 9 great-grandchildren; sister, Mary Filip (Terry) of Shiner; sister-in-law, Lorene Roznovsky of Yoakum; sister-in-law, Dianne Roznovsky of Denton; Preceded in death by his parents; brothers, Vaclav, Jerry, Bohumil "Bobby" and Dennis Roznovsky.

The family will have a service at the cemetery chapel, Wednesday, July 22 at 1:00pm at Saint Cyril and Methodius Catholic Church in Shiner, TX.

In lieu of flowers, please make memorial donations to the St. Jerome Catholic Church Building Fund, 201 N. Lazy Lane, Clute, Texas 77531

The family plans to have a celebration of Edward's life on his birthday, November 17, 2020.