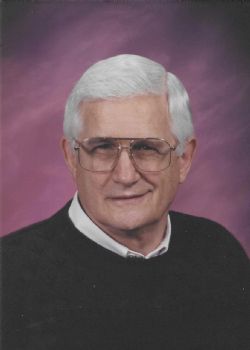 William Marcus Stephenson

William Marcus Stephenson
April 28, 1936 - July 20, 2020
William Marcus Stephenson, born in Roby, Texas on April 28, 1936 died peacefully on July 20, 2020. He is preceded in death by his parents, Scott and Lourita Stephenson and his in-laws, Jesse and Bessie Mixon. He has been married to Lila Jean Mixon for 64 1/2 years. Together they had four children: Kathryn Thomas (John), Dawn Backor (Mark), Karen Turner (Scott), and David Stephenson (Sonia) •6 grandchildren: Lance Arnold, Ashleigh Price (Jacob), Brent Backor (fiancé Jordon), Ryan Damian, Skylar Turner, and Alyssa Stephenson 5 great-grandchildren: Kayleigh, Jaedyn, Lilah, and Jackson Price; and Pierson Arnold Brother- Mike Stephenson (Alisa); nieces- Laurie Stephenson, Paula Brown, and their mother Shirley McKinney; Great-niece: Megan Bailey Pallbearers: David Stephenson, Lance Arnold, Brent Backor, Ryan Damian, Scott Turner, John Thomas, Mark Backor, and Jacob Price. Honorary Pallbearers: Ogden Bass, Roy Shiflett, D-Boy Williams, David Ozuna, Gerald Andrews, Carroll Lanier, Bill James, and Larry Parks. Thank you to Ronda, Christy, Tracy, Tamara, DeShaunda, Leora, and Zach for the superb love and care that you provided to our father for all these years. Marcus returned to the Freeport area, living in Camp Chemical after relocating for several years with his family as they followed construction work in several states. His life of service began early as he became a natural leader during his high school years. He was a 1954 graduate from Brazosport High School where he excelled athletically as well as a leader in his class. He was awarded an athletic scholarship to The University of Texas football program. After marrying his high school sweetheart, he transferred to Sam Houston State University on another athletic scholarship. In 1958, he graduated from SHSU with a BBA degree with a major in Accounting and a minor in Sociology. He was a member of the Texas National Guard – Military Police – 49th Armor Division from 1955 thru 1962. As his career and family flourished, so did his commitment to volunteer his time to organizations that would provide an avenue of success to the future of the Freeport area. His legacy of service will be remembered as his commitment and dedication to this community will always be proudly remembered by his family and those who knew him.
During the years of 1962 - 1992 he was employed at Dow Chemical Company as a Certified Internal Auditor, and completed his Dow career as a Senior Audit Manager. After retirement in 1992, he obtained is Real Estate Agent license. From the years of 1967 – 1992 he served on the BISD Board of Trustees and served as President for many of those years. From 1990 – 1992 he served on The Texas Association of School Boards, Board of Trustees… During this time he served as a 2-term President which at the time, he was the ONLY 2 term President in its 40 year history. From 1993 - 2013 he served as Chairman of the TDECU Audit Committee and also served as The TDECU Board of Directors Chairman for ten years. He dedicated 20 years to The Freeport Recreation Association and served on The Board of Directors as President. He served as a board member of The City of Freeport Parks and Recreation and was also elected Chairman. He organized and served as President of the Board of Trustees for the Brazoria County Boys Club. He served on the Brazosport Chamber of Commerce Board of Directors.
In his later years, he served on the Brazoria County Historical Museum's Board of Directors, was a member of SHSU Alumni Board of Directors, and served as the SHSU Lettermen Association Chairman. In 2009, he was inducted into the BISD Wall of Fame at Hopper Field. In 2013, he was awarded the prestigious Stephen F. Austin Leadership Award. In 2014, the Marcus Stephenson Citizenship Scholarship was created at TDECU which is awarded to a Brazosport graduate in the amount of $3,000. On August 25, 2016 the Brazosport High School athletic field house was named the W. Marcus Stephenson Field House to honor his years of service to the Freeport community and the surrounding areas. Marcus was a joyful servant, loyal and a man of honor. He was fair in all he did. There wasn't a day without laughter in our household because of him. Our family would like to say thank you Dad for being the greatest role model in the World, for always keeping God centered in your life, always making the Bible the basis for all your decisions and having the biggest servant's heart of anyone that we have known and will ever know. Thanks Dad, We Love you! Visitation will be at Chapelwood Methodist Church on August 1, 2020 from 12:00-2:00, with the funeral service following at 2:00. Services can be viewed, via Facebook Live, on the Chapelwood Methodist Church's Facebook page.

* Masks and social distancing required
** Graveside service will be private

(2 Timothy 4:6-8)
6 For I am now ready to be offered, and the time of my departure is at hand. 7 I have fought a good fight, I have finished my course, I have kept the faith: 8 Henceforth there is laid up for my a crown of righteousness, which the Lord, the righteous judge, shall give me at that day: and not to me only, but unto all them also that love his appearing.