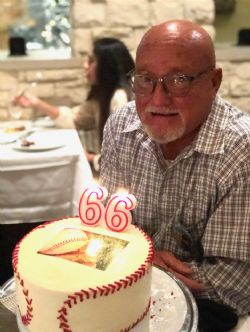 James Lane Arnold

James Lane Arnold
October 14, 1953 - July 20, 2020
James Lane Arnold "CUZ" 66, of Lake Jackson, Texas. Went to be with the Lord on July 20, 2020. He was born on October 14, 1953 to Doris and Milton Arnold in Church Point, Louisiana. For anyone who know Cuz knew he had a natural talent for sports. Especially baseball! From winning little league tournaments to getting noticed by a scout from Cincinnati Reds, at Southmost Junior college in Brownsville, Texas, where he attended college in the late 70's. After college Cuz settled down and planted roots back in Brazoria County, where he worked at Wholesale Electric Co. for over 30 years. Cuz was well known throughout the community from umpiring girls' softball for 16 years. James was a great father, grandfather, and friend. He was loved by all who knew him. Throughout his life, Cuz had touched the lives of many.

He is survived by his three children. Son; Lance Arnold, Daughters; Lindsey Sloane, Jessica Cepeda and their husbands Thomas and Jose, and by his two grandsons. Pierson Arnold and Jackson Sloane; whom he loved dearly and was the best pawpaw to them. He always enjoyed playing and being silly with them.

He was proceeded into death by his parents. Doris and Milton Arnold, and his Uncle Allen Babineaux.

The pallbearers will be, Lance Arnold, Jose Cepeda, Thomas Sloane, Todd Roundtree, David Rios and Mike Anderson.

Viewing and Funeral services will be held at Lakewood Funeral home in Lake Jackson. Viewing and burial are open to the public, but the chapel can only accommodate 75 people for the funeral service which will also be streamed live via Facebook from James Arnold's Facebook. Viewing is from 12-3pm. Funeral service immediately to follow at 3pm. Burial will be held at Restwood at 4pm.

Flowers may be sent to Lakewood Funeral Home the day of the service.