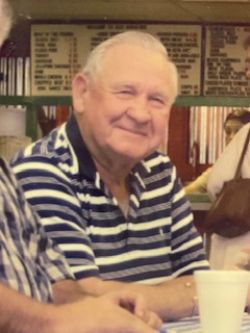 Daniel James Hybner

Daniel James Hybner
October 20, 1928 - July 25, 2020
Daniel James (DJ) Hybner, age 91, of Lake Jackson, Texas passed away at home with family at his side. As we all know DJ loved his God, family, and the great outdoors with hunting, fishing, poker, golfing, bar-b-quing, softball, POLKA, and SHINER/Church picnics.

DJ was born on October 20, 1928; the youngest of nine children, into a wonderful loving and large family in 1928 in Shiner Texas. DJ joined the Army at the age of 17 with special permission and was stationed in Japan and as per him "WE NEED TO PROTECT THIS GREAT NATION". He then tried his hand at farming for a few years. He decided it was not for him, and moved to Lake Jackson Texas in 1950 to work for DOW Chemical in Operations. DJ worked there for 26 years and then decided to open up DJ's Bar-B-Q in Clute Texas, which became quite popular. He learned the Bar-B-Q business from several people, especially his sister; Annie Sofka, who had Otto's Bar-B-Q on Memorial in Houston. He loved cooking for large crowds and small family get togethers.

DJ met the woman he would love forever at a blind date in Shiner. He says he set eyes on Alice and that was it. He said "I am going to marry her". They married on June 19, 1965. DJ retired from the DJ's Bar-B-Q in 1993, though this did not stop him from having his "Conference Meetings every Tuesday at 4 pm" with family and friends. Thank you Rory and Tammy Neal for letting him be a part of DJ's till the end.

Survivors include his brother, Phil Hybner; his son, Jack Hybner, of Clute Texas; daughter, Debby Hybner Ramirez and Marshall Ramirez, of Richwood Texas; grandchildren, Chrissi Hybner Daniel and Erik Daniel, of Angleton, Daniel (DJ) Ramirez and Jackie, of Dickinson, Texas, Mike Ramirez, of Richwood, Texas, and Stacy Hybner, of Freeport Texas; great-grandchildren, Gavin Pennington, of Lake Jackson, Terry Daniel Urquilla, of Freeport Texas, Mercedes Hybner, of Clute Texas, Alexis Hybner, of Brazoria, Tasha Barringer, of Dickinson, Shylo Ramirez, of Pasadena Texas, Emmett Barringer, of Dickinson, Jesse Barringer, of Dickinson, Jayden Hybner, of Freeport Texas, Jonathan Daniel, of Angleton, and Clara Mae Daniel, of Angleton; and many more cherished nieces, nephews, and cousins around the world. DJ will be greatly missed by all who knew him.

DJ was preceded in death by his parents; wife, Alice Hybner; son, Harold Hybner; and daughter, Joni Hybner.

Honorary Pallbearers are Percy Gaspard, Paul Gaspard, Rory Neal, Ernie Mensik, D.C. Boston, and Ron Pislak.

Mass, Rosary, and Visitation will be held at Saint Michael's Catholic Church in Lake Jackson, Texas on August 5, 2020. Family visitation is 2:00 p.m. to 3:00 p.m. The family will receive friends from 3:00 p.m. to 5:00 p.m. At 4:30 p.m. a rosary will be conducted by the Knights of Columbia, DJ Hybner was 4th degree Knight. A funeral mass will be held at 5:00 p.m.
Internment and memorial of life will be held in Shiner Texas at a later date.

Additional thank you to Choice Home Health and Hospice, Dr. Feaver and Dr. Baradhi.
Please note that because of Covid everyone will be required to wear a mask in the Church. There will be overflow into the hall.